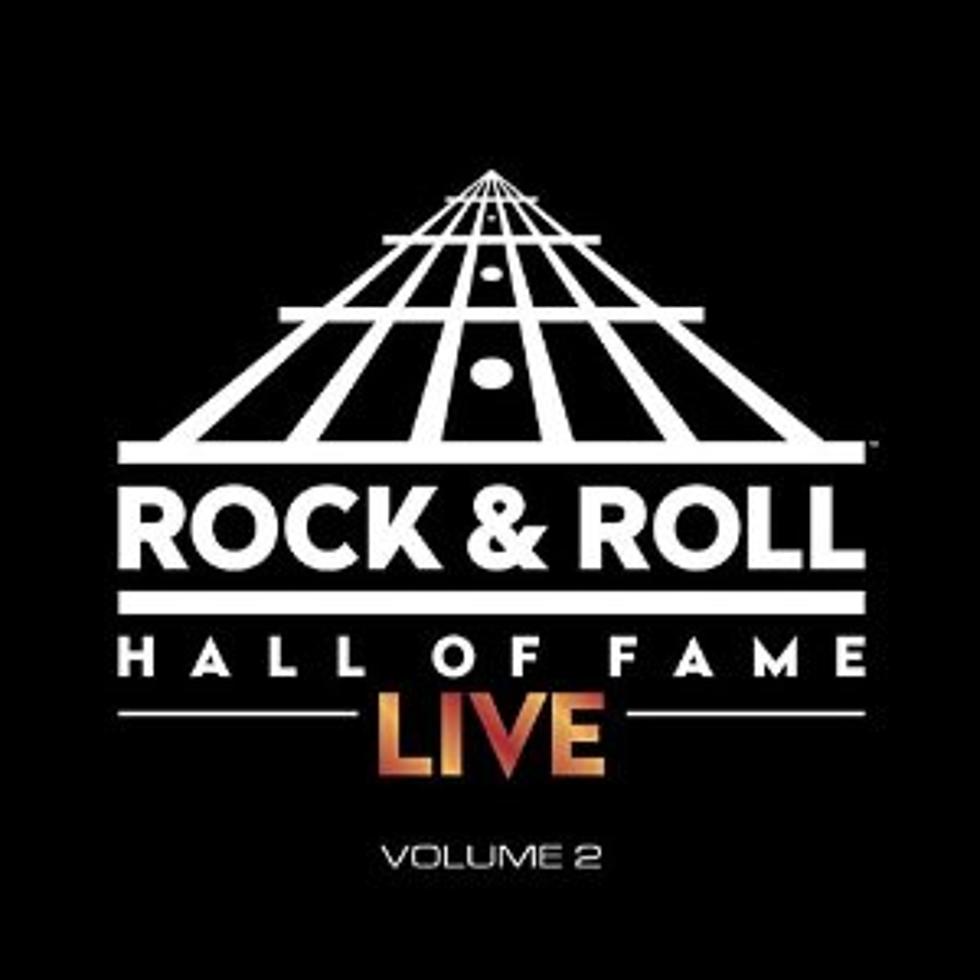 Eddie Vedder, Axl Rose + More on 'Rock and Roll Hall of Fame Live – Volume 2′
Time Life
The Rock and Roll Hall of Fame is responsible for some of the most unique onstage collaborations. At each induction ceremony, some of the biggest names in rock perform together in honor of the year's inductees. Now, Rock and Roll Hall of Fame Live - Volume 2 is bringing some of the best performances together on one set, arriving on specially colored vinyl through Time Life.
Hitting shelves and webstores on Sept. 16, the red / orange swirl, 180-gram record will bring 10 performances in total between 1990 and 2006, marking some of the most lauded collaborations in rock history. Songs include "Roadhouse Blues" where Pearl Jam's Eddie Vedder joined the Doors, Axl Rose and Bruce Springsteen playing "Come Together" at John Lennon's induction and more. Check out the full track-listing below.
All proceeds from the sale of Rock and Roll Hall of Fame Live - Volume 2 will go directly to the Hall itself. These funds will help support the establishment's exhibits as well as their educational program.
This year, the Rock and Roll Hall of Fame did right by rock fans by finally inducted Deep Purple, more than 20 years since the iconic rock band became eligible. The events leading up to the induction ceremony were tumultuous given long-standing tensions between singer Ian Gillan and former guitarist Ritchie Blackmore. Every member of the MK I, II and III lineups received the nod, save for original bassist Nick Simper.
Rock and Roll Hall of Fame Live - Volume 2 Track Listing
01. "Whole Lot Of Shakin' Going On" — Jerry Lee Lewis (2005)
02. "Roadhouse Blues" — The Doors with Eddie Vedder (1993)
03. "Pinball Wizard" — The Who and the Rock Hall Jam Band (1990)
04. "Big River" — Johnny Cash and the Rock Hall Jam Band (1992)
05. "Come Together" (A Tribute to John Lennon) — Bruce Springsteen and Axl Rose (1994)
06. "Landslide" — Stevie Nicks and Lindsey Buckingham (1998)
07. "Groovin'" — The Young Rascals (1997)
08. "634-5789 (Soulsville, U.S.A.)" / "Mustang Sally" / "Land Of 1000 Dances Medley" (A Tribute to Wilson Pickett) — Solomon Burke, Marc Broussard and Leela James (2006)
09. "Green River" — John Fogerty & Friends (1993)
10. "Let It Be" — Paul McCartney and the Rock Hall Jam Band (1999)
Biggest Rock + Metal Stories of 2016 (So Far)
10 Unforgettable Onstage Reunions