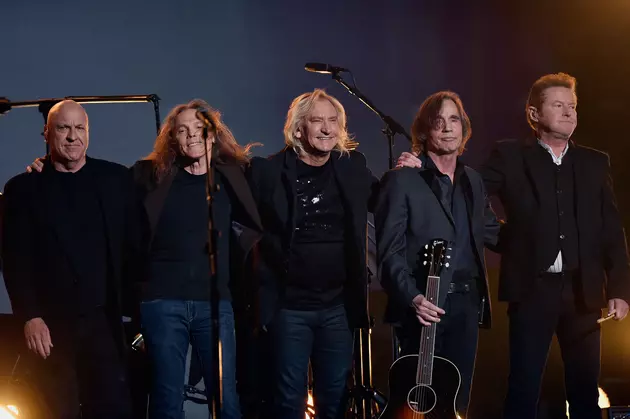 5 Facts You May Not Know About The Eagles "Hotel California"
Credit: Kevork Djansezian / Getty Images for NARAS
If you're a Boomer and a fan of the Eagles and the Song "Hotel California," here are 5 things you may not know about the song.
2.  The song is about excess in America. There have been a lot of theories of what the song represents. The band members have stated in several interviews over the years the song's true meaning was a statement to the hedonism and the self-indulgence of America. Henley said in a 2002 interview with 60 minutes, "it's basically a song about the dark underbelly of the American and about the excess in America which is something we knew a lot about".
3.  "Hotel California" originally had a different name, according to Cameron Crowe the journalists-turned-director. The original title for the song was to be "Mexican Reggae".
4.  The Rock and Roll Hall of Fame in Cleveland, Ohio, named "Hotel California" as one of the songs that shaped rock and roll. The Eagles were inducted into the Rock and Roll Hall of Fame in 1998.
5.  There is a playful nod to the band Steely Dan in the song. Glenn Frey said the line was "They stab it with their Steely knives, but they just can't kill the beast." The line was included in "Hotel California" after Steely Dan made an Eagles reference in their song "Everything You Did."
The Eagles were one of a kind and will never be replaced!