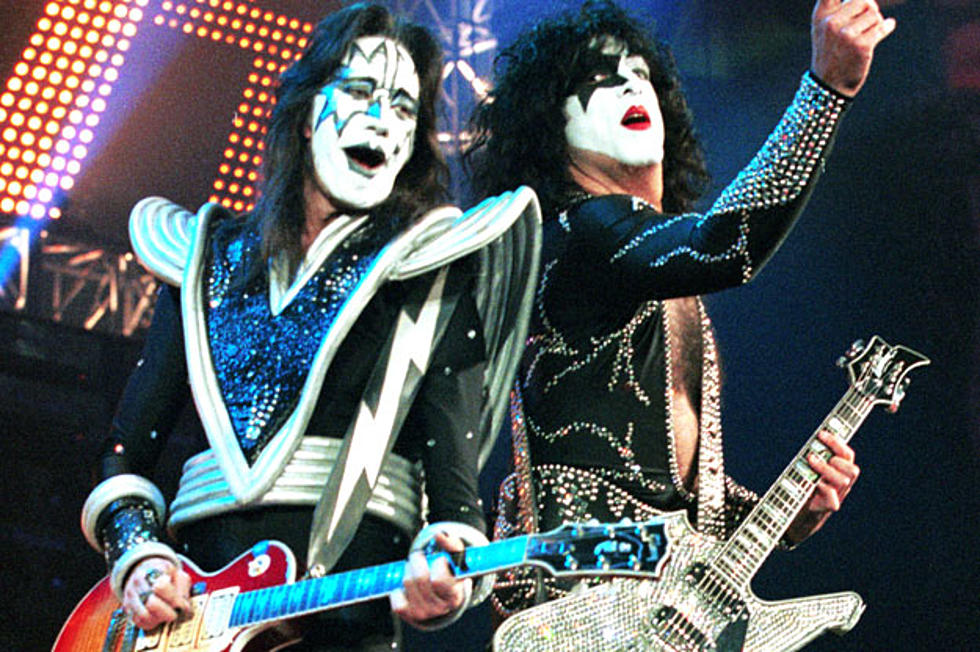 The New York Anthem Kiss Legend Almost Didn't Record
George de Sota, Getty Images
Is there anything less rock n' roll than a band named Hello?
Add in some synchronized stomping by four Brits and a harmonica riff and I am not sure you can get farther away from the sonic and visual bombast of Kiss.
And yet, that British band that most Americans have never even heard of was responsible for a song that would have huge ramifications for the "Hottest Band In the World".
The band Hello has it's roots in a band called The Age. The Age was a backing band for another act before deciding to strike out on their own. It was at this point in time that they decided on the innocuous name of Hello. Oddly, in a world that didn't yet know about Kiss, it could be argued that the names Hello and Kiss were both rather nondescript.
On their debut album, Keeps Us Off The Streets, Hello would record the song "New York Groove". It would be a Top 10 hit in the UK and in Germany but would have no stateside presence.
Fast forward to 1978.
Rather than have the band members leave to record solo albums, Kiss, at the height of their 1970s power, decided to allow each member to create their own solo album and put uniform covers on them while releasing them on the same day in a show of solidarity.
The expectations for guitarist Ace Frehley's solo album were not high. Gene Simmons and Paul Stanley were the primary vocalists in the band and Peter Criss had sung the huge hit song "Beth". Ace had only taken a full solo lead vocal on "Shock Me" from the band's latest album Love Gun.
In the midst of recording his album, producer Eddie Kramer approached the spaceman with the song "New York Groove".  Ace had no interest in recording the song but Kramer would not let it go. Ace relented and recorded the cover, albeit with some lyrical changes and some arrangement alterations. Goodbye harmonica.
And it is a good thing he did.
"New York Groove" was released as a single and charted at Number 13 on the Billboard Hot 100. This was by far the highest charting single of all of the Kiss solo albums and would push Frehley's album to be the highest selling of the 4 (sometimes still a point of contention among the band is who sold the next highest amount and so on down the line). The song has endured and remained a live favorite for both Kiss shows featuring the original lineup and in Frehley solo shows.
The Haunted Bedroom - Lansingburgh, NY
Rumored Haunted Mansion in Camden Goes From Spooky to Spectacular
A historic mansion from the 1800s that was once rumored to be haunted has gone from spooky to spectacular.
30 Allegedly Haunted Dolls You Can Buy On eBay Before Halloween
Shockingly, on eBay you can find all sorts of haunted items. These can be boxes, pictures, books, and even dolls. Sellers claim that dark spirits are attached to these objects. Would you even want one in your home? Why not shop for these gems for $50 or less?