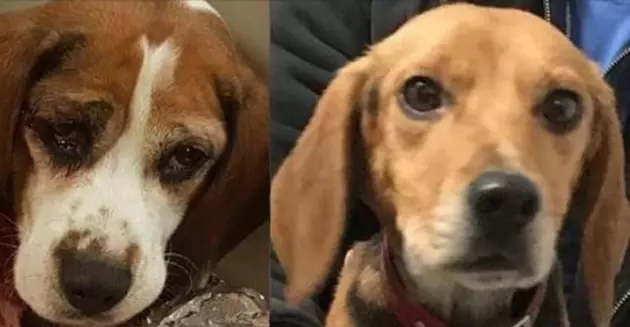 Dogs Thrown From SUV on I-81 Are Healing
The Broome County Humane Society
The Broome County Humane Society reports that both the dogs are eating well and gaining weight after being thrown out of a moving dark blue Dodge Durango on I-81.
Can you believe the criminals who did this are still on the lose?
Someone out there must know these dogs or the people who threw them out of a moving vehicle leaving them for dead. Please, if you know something then say something! There's a huge reward over $17,000.00 that could be yours. Anyone with information about the suspect(s) is asked to call SP Homer at (607)749-1614.
The Broome County Humane Society is caring for two Beagle dogs that were reportedly thrown from a vehicle on Interstate 81 southbound. NYS Police say a tractor-trailer driver from Syracuse told troopers that he saw the dogs thrown from a dark-colored SUV that he was behind at around 9:30 a.m. Wednesday. The driver stopped on the left side of the road to rescue the dogs and contact authorities. He then used his sweatshirt comfort the severely injured dog until NYS Police arrived.
Trooper had numerous injuries including two fractured legs, broken ribs, a lung contusion and was transferred to Colonial Animal Hospital in Ithaca. After X-rays and seeing an orthopedic specialist he had surgery in an attempt to keep both legs, but due to the extent of his injuries, only one could be saved.
Thankfully, Trooper is slowly recovering. There were some concerns relating to his blood test results-which could have turned out to be normal after his type of trauma and surgery.
PETA has issued awards to the NYS Troopers and Adam the truck driver who was instrumental in rescuing the dogs. There is also a $16,500 reward (possibly more as PETA has donated another $500) being offered in the conviction of the suspect(s) who threw two dogs out of the moving vehicle on Wednesday, December 12, 2018, on I-81 south in Marathon, NY.
If you know any information about these dogs or the circumstance, contact New York State Police, (607)749-1614. If you'd like to help with medical expenses for these and other dogs in the shelter, follow the links below! The Staff Works Save a Life Campaign matches your donations up to $10,000 and can help to expand the impact of your kindness. They are also accepting donations via their website and at 167 Conklin Ave, Binghamton, NY.