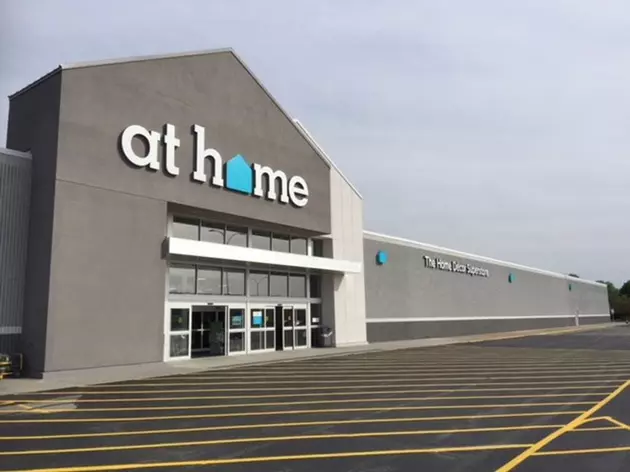 See The Inside of 'At Home' in New Hartford
Photo Credit: Stacey Jones, At Home Superstore Director
At Home offers hip home decor at super low prices in a warehouse type environment. According to the At Home website the store is a self-help warehouse experience and each store is the size of 2 football fields! Truckloads of merchandise arrive daily and they carry over 50,000 products at any given time.
Stacey Jones, At Home Store Director for the New Hartford location, was gracious enough to answer a few of our questions.
Our soft opening is today! The store is currently open to anyone who would like to come and shop your more than 50,000 home decor items. We are waiting just a few weeks for our Open House event, where our new At Home New Hartford NY location will give away Gift Cards valued from $20-$200 to the first 50 customers in the store who sign up for Insider Perks. The Open House event is on Saturday, June 2.
Any other special for the Grand Opening?
Just in time to refresh your home for the spring and summer season, we're offering gift cards to the first 50 customers who visit the store and sign up for Insider Perks.
In addition to that, we will be making a $5,000 donation to the local Habitat for Humanity chapter.
Do you offer a store credit card with perks?
We do offer a credit card, when you open and use your new At Home credit card you receive 10% off your first purchase as well as earning $5 rewards for every $100 you spend. You will also receive a birthday coupon and email notifications of sales.
We also offer insider perks. By signing up for insider perks you can save 10% off on your next visit, plus enjoy exclusive benefits including coupons, birthday bonuses, receipt-less returns and insider info on hot deals! It's a great way to experiment and refresh with our more than 50,000 on-trend products.
How many At Home stores are there?
We're excited to bring the 5th store to New York. At Home now has 158 locations in 34 states with the opening of the New Hartford NY location.
What's the size of the New Hartford store compared to others?
Our New Hartford At Home store is a 100,000 square foot home décor superstore that provides customers endless possibilities for every room and style at every budget. We are larger in square feet than our Destiny location.
Did you expand the old Kmart building?
Yes, we did expand off of the old Kmart building. We built an additional 20ft for selling area along with our receiving area is all new.
We are not currently hiring but we are always looking for top talent. You can apply online or at our hiring kiosk in the store.
Anything else you would like to add?
Our New Hartford NY location is located at 4645 Commercial Dr and is open seven days a week. We'll be open Monday-Saturday 9am-10pm and Sunday from 9am-9pm. You can visit AtHome.com and find New Hartford on the store locator for further details.
Here's a look inside the At Home Superstore!
It's time for you to check out the all-new At Home Superstore for yourself! We can't wait to visit!
More From The Eagle: