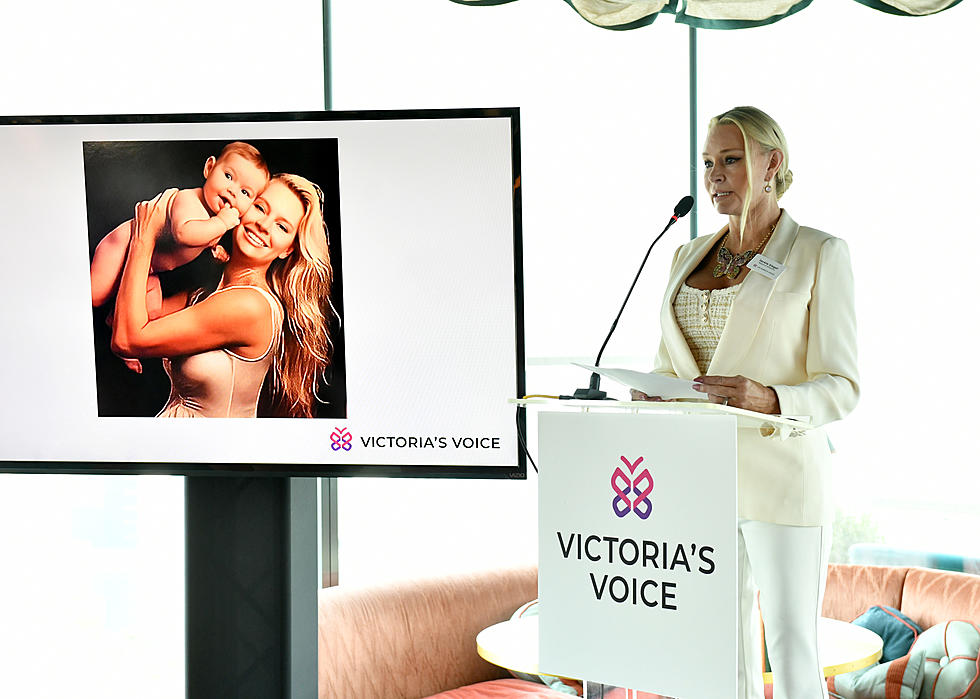 "Queen of Versailles" Star Jackie Siegel Urges Naloxone Awareness for Central New York Parents
Craig Barritt/Getty Images for Victoria's Voice Foundation
You may know her from the 2012 Queen of Versailles documentary, but Jackie Siegel is now using her fame to spread awareness about opioids after losing her teen daughter to an overdose.
Speaking to WIBX, Siegel recalled "that dreaded phone call that no parent should ever get" over eight years ago.
Her daughter, Victoria, died of an accidental overdose at the tender age of 18. She was among the 129 Americans who died of a drug overdose that same day – June 6, 2015.
"All The Money In The World Couldn't Bring Her Back"
Siegel and her husband, real estate mogul David Siegel, channeled their grief into a new initiative called Victoria's Voice Foundation to shield other parents from experiencing their pain.
The foundation aims to provide drug awareness, prevention and resources.
Their current campaign focuses on naloxone, which has since been approved to be sold over-the-counter at drugstores and grocery chains nationwide.
Naloxone, also called narcan, is administered to those experiencing the symptoms of an overdose and can reverse the drugs' effects.
This treatment has saved thousands of lives, especially at a time when drug overdose deaths are rising due to an increase in fentanyl being cut into illegally sold substances.
The U.S. Drug Enforcement Administration has issued several warnings about drugs, like fake prescription pills, being laced with a lethal dose of fentanyl. A recent survey found 6 in 10 fentanyl-laced pills are deadly.
Fentanyl is a powerful narcotic that is 100 times stronger than morphine. The synthetic opioid is also 50 times stronger than heroin and even the smallest exposure could lead to an overdose.
The reality star spoke directly to Central New York parents and called upon her roots in Binghamton, where she was born and raised, to urge them to get their hands on naloxone.
Siegel says having naloxone on hand ensures preparedness in the event it's ever needed. She also said it's critical to quickly administer naloxone to an overdose victim, so having it on hand can save precious time.
Recognizing Signs Your Child May Be Using
Siegel understands parents would feel uncomfortable thinking their children would turn to drugs. That is a suspicion no parent wants to feel.
Siegel warned kids can be very talented at hiding things from their parents and pretending nothing is wrong. However, she said there are some definitive red flags adults should learn to recognize.
She says a child's change in behavior and friend group should be seen as a major warning sign.
She also urges parents to take it seriously when their children exhibit a lack of interest in hobbies they used to love.
Siegel also said parents should also be concerned if their child is spending more time behind closed doors and locking themselves in the room.
The reality star noted that her daughter battled depression and turned to drugs to self-medicate. She also said Victoria found solace in a new group of friends who didn't have her best interests in heart.
"They knew she had money to fund their drug habits and they used her for that," she lamented.
Sigel also issued a stern message to parents who truly believe their child can do no wrong because of how they were raised.
If it can happen to us, it can happen to your family too.
While watching out for potential red flags are critical in preventing a child from dabbling with drugs, Siegel said there are some proactive measures parents can take to help protect their children from addiction.
Parents Need to Work on Communicating
Siegel expressed that parents need to establish open lines of communication with their child and strive to create a relationship where a son or daughter will feel comfortable enough to tell their guardian anything.
They need to be a best friend to their children and try to hopefully prevent their children from trying anything to begin with. Cause once they're addicted, it's hard to come back from that.
Siegel wished her daughter had felt comfortable enough to come to her about anything. Instead, Victoria had religiously chronicled her deepest thoughts in a diary.  The reality star said she learned of the diary's existence after her daughter's passing.
The Siegel family decided to publish the diary and titled it Victoria's Voice: Our Daughter's Losing Battle with Drug Abuse.
Their hope is the book raises awareness about drug addiction and encourages those who are struggling to get help.
As for Siegel's other recommendations, she encouraged parents to start talking about drug abuse with their children by the time they reach middle school. She warned children are starting to abuse drugs a lot younger, so it's critical for parents to be proactive and set boundaries.
She also warned peer pressure can be weaponized against children and make them do things that make them uncomfortable. Siegel said it's crucial for parents to get to their children first before these bad actors can.
Siegel has already lived a parent's worst nightmare and that is why she says parents should consider having a drug testing kit at home. She recommends parents show it to their children and make it clear that they will use it if they suspect drug use.
Let your child know that they could be random drug tested at any time. It could be helpful. So when that child is peer pressured, they can blame their parents. It gives them an out.
As for why Siegel suggested a measure some may find extreme, her primary concern is keeping children away from ingesting fentanyl.
It's in Everything
Drug traffickers are mixing fentanyl into other drugs because it is cheap to make and even the smallest amount goes a long way. However, traffickers aren't likely to disclose the drugs they're selling are laced with fentanyl, which often leads to individuals unknowingly consuming it and overdosing.
"You have to assume everything is laced with fentanyl," Siegel warned, noting of how drugs like synthetic marijuana or sleeping pills are being cut with it.
It seems like there's invisible bullets killing our next generation. Our kids are under attack.
That is why she wants parents can instill a healthy fear of drugs in their children.
Now that naloxone has been approved to be sold over-the-counter, Siegel says she is "elated" because it does work against fentanyl.
She says this will save many lives and spare others from feeling a heartache that no parent should ever experience.
Victoria's Voice
Siegel encourages parents to check out the Victoria's Voice Foundation because it'll not only connect them with where to find naloxone, but it will also provide them the tools to educate their children about the dangers of drug abuse.
Siegel and her husband are also lobbying lawmakers to pass laws that combat drug addiction as well as expand lifesaving resources and outreach efforts.
The duo also work with police departments to ensure every officer carries naloxone.
I know in Seminole County alone, the sheriff came up with me a couple weeks ago and he said he can't thank me enough and how happy he is that all of his police officers carry naloxone. And he says they've administered it over 700 times just this year.
Siegel also teased a show about her life is being developed for Broadway, which will incorporate elements of her mission to end the drug epidemic.
While she could only say so much about the upcoming musical, she did reveal that Kristin Chenoweth will be playing her on the stage.
They are also incorporating Victoria's points as part of the storyline in the show, so this is going to be a legacy that is going to carry on.
Those interested in Siegel's mission can also tune in to the show Queen of Versailles Reigns Again, which is streaming now on Max.
A second season has been greenlit and will air on HGTV.
Those interested in learning more about Siegel's story can also visit the Victoria's Voice Foundation website.
She also teased Central New York parents might run into her very soon, as she is considering joining her 40th high school reunion in Binghamton.
These 6 New York Counties Have The Most Drug Overdose Deaths
New York State officials are worried because overdose death rates increased by 85 percent. Below are the top 6 counties in terms of opioid overdose deaths per 100,000.
These 5 New York Counties Have The Most Drug Arrests Per Capita
While New York State doesn't top the nation, it still has its issues with illegal drugs
Can New York Employers Drug Test Most Employees For Weed And Marijuana?
Can New York Employers drug test most of their employees for weed? Here's everything we know from the New York State Department of Labor after they released new guidance.