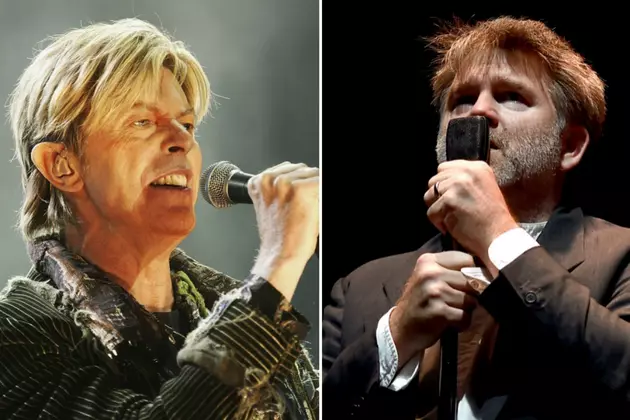 David Bowie Was Behind the LCD Soundsystem Reunion
Jo Hale / Kevin Winter, Getty Images
The two spent a lot of time together and over email in Bowie's final years, as Murphy remixed "Love is Lost" off of  Bowie's The Next Day and performed percussion duties on his Blackstar, as well as producing the title track of Arcade Fire's Reflector on which Bowie sings.
LCD Soundsystem dramatically split in 2011, ending their run with a show at New York's Madison Square Garden and a documentary about the band. The band since reunited in 2016, and released three new tracks this year, including the titular "American Dream" and "Call the Police," from their fourth LP due in September.
In an interview with Lauren Laverne on BBC 6 Music, Murphy revealed that it was Bowie who inspired him to take the plunge and reunite LCD Soundsystem, an idea he'd already been bouncing around.
"I spent a good amount of time with David Bowie, and I was talking about getting the band back together. He said, 'Does it make you uncomfortable?' I said 'Yeah,' and he said 'Good, it should. You should be uncomfortable,'" Murphy said, wondering how Bowie would know.
"The first thing that popped into my head was 'What do you know? You don't know what it's like to be uncomfortable,'" Murphy said. "I was imagining that if I was David Bowie, I'd just be walking around flipping everybody off – unless maybe Lou Reed is there. There are literally one or two people where nothing can be said about them. But that's not who he was ever in his life. He was always making himself uncomfortable. There was such a great feeling of 'You just don't know what you are to anybody else.'"
He also noted to Annie Mac on BBC Radio 1 that Bowie producer Tony Visconti had tapped him to co-produce Blackstar, but he ultimately declined. "I played a little percussion. I was supposed to do a lot more, but I got overwhelmed … It takes a different kind of person than me to walk into that room and be like, I belong here, I should definitely insert myself in this relationship because they just can't manage to make a record without me."
Instead, Murphy suggested the two make a record together. Bowie agreed, and asked Murphy to look him up when he returned to New York.
2017's Most Anticipated New Releases