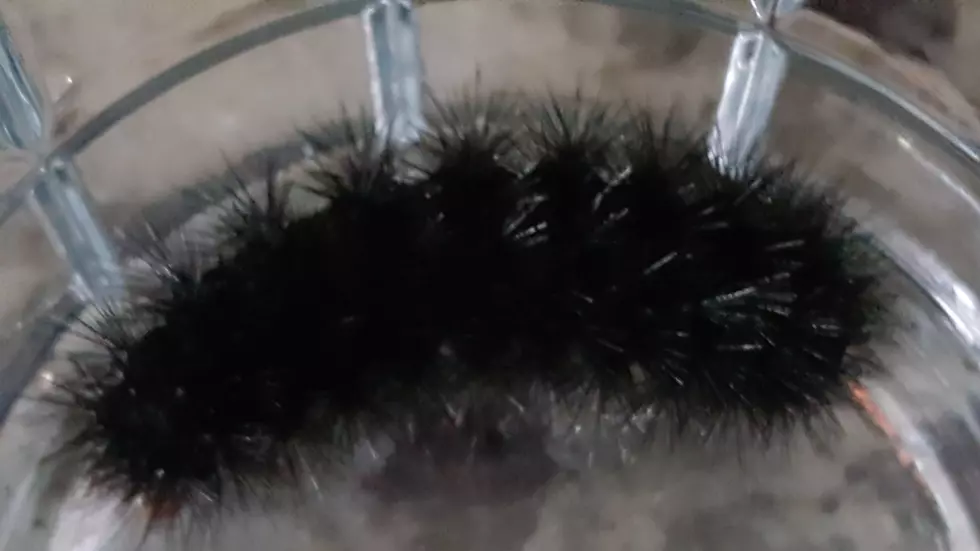 An All Black Woolly Bear In CNY?
Cindy McMullen/TSM
Some might say we're in for a severe winter by the looks of this caterpillar.
This time of year the woolly bear caterpillar is in the spotlight. Folklore says that if the rusty brown band is wide (more segments), then it will be a mild winter. The more black there is, the more severe the winter.
Giant Leopard Moth Caterpillar
Don't get worried, this black caterpillar is not a wooly bear at all, it's a Giant Leopard Moth Caterpillar (Ecpantheria scribonia). This caterpillar always looks like this regardless of what happens during the upcoming winter. It is found across the eastern half of the United States and Canada.
Weather.Gov says the woolly bear caterpillar can't predict what Old Man Winter has in store for us in the upcoming winter.
The woolly bear caterpillar's coloring is based on how long caterpillar has been feeding, its age, and species. The better the growing season is the bigger it will grow. This results in narrower red-orange bands in its middle. Thus, the width of the banding is an indicator of the current or past season's growth rather than an indicator of the severity of the upcoming winter.
The coloring indicates the age of the woolly bear caterpillar. The caterpillars shed their skins or molt six times before reaching adult size. With each successive molt, their colors change, becoming less black and more reddish.
There are approximately 260 species of tiger moths (the adult of the woolly bear caterpillar) in North America, and each species has slightly different color patterns and hair coverings. As a result, some of the color and hair variations that we see each fall are a result of these different species. Weather.Gov
Do you believe in the caterpillar folklore?