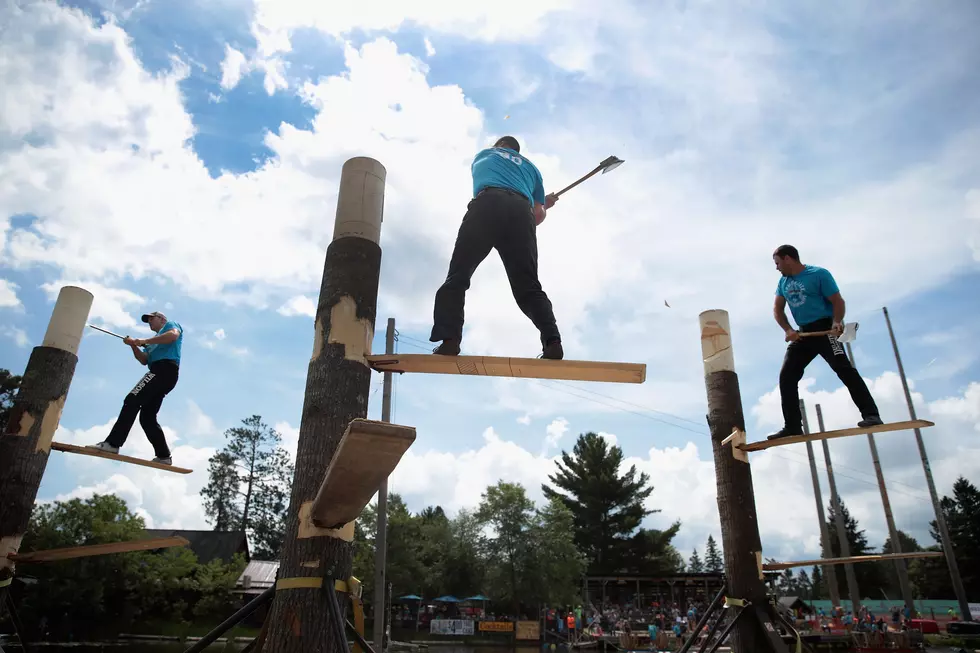 71 Annual NYS Woodsmen's Field Days In Boonville
photo credit - Scott Olson/getty images
It's just about here the New York State Woodsmen's Field Days. Everything kicks off on
Friday, August 17 and runs through Sunday, August 19. Rain or shine we'll see you at the Boonville-Oneida County Fairgrounds.
The 6th Annual POWER-CARVE OPEN Chainsaw carving Competition all three days. carving competition will be held in the infield exhibit area on the fairgrounds. Carvers will create a "masterpiece Carving throughout the weekend. All carvings will be auctioned off through the weekend check the program for times.
The Worlds Open Lumberjill Championship contests start at 3 pm Saturday with Log rolling, chainsawing, ax throw, two women crosscut, jack and Jill crosscut,  bow sawing, horizontal log chop, one women crosscut, speed chopping and fire building naming of 2018 World's Open Champion Lumberjill
NYS Woodsmen's Open Championship Lumberjack contest starts on Sunday at 3 pm, the contest includes Chainsawing, one man crosscut jack and Jill crosscut, two-man crosscut, bow sawing ax throwing, tree felling, log chopping, log rolling, standing block chop and springboard chop. The naming of the 2018 NYS Open Champion Woodsmen
Morning carve 8:30 am to 12:30 pm
Afternoon carve 1:30pm to 4:30pm
Morning carve 8:30 am to 12:30 pm
Afternoon carve 1:30 pm to 4:30 pm
An auction of completed carvings from Friday and Saturday at 4:45 pm bidders must register - credit cards accepted
Morning carve 9 am to 11 am
An auction of completed carvings from Saturday afternoon and Sunday including Masterpiece carvings.
Judging of the competition will be held Sunday morning at approx 11 am.
Daily admission at the gate
$11 per adult, $8 child (12 and under)
Military Members & Senior Citizen 60 and older $9
Children 5 and under are free