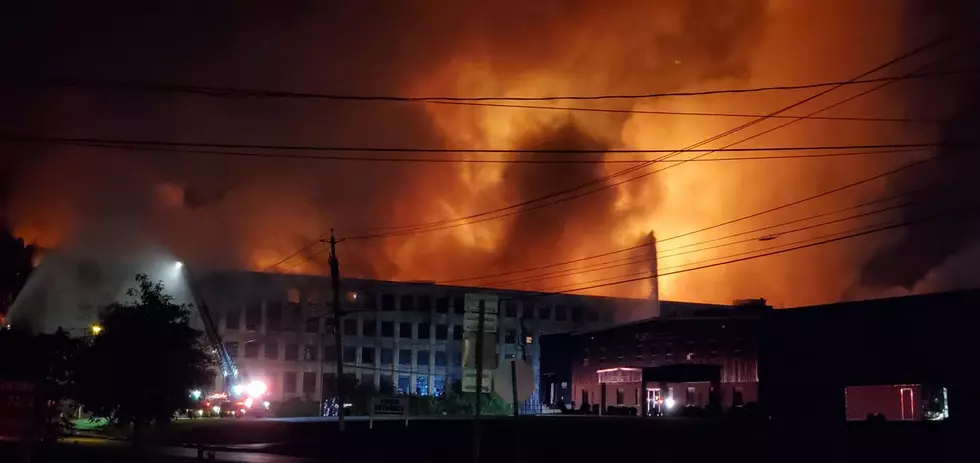 Massive Charlestown USA Mall Blaze Covering East Utica in Smoke and Ash
Photo Credit - Andrew Huther
Firefighters are on the scene of a massive blaze that broke out at the Charlestown Mall overnight and will be there for the next few days.
Crews were called just before 1:30am to the multiple alarm fire.
Smoke and ash from the fire are covering the lower side of East Utica. The Utica Fire Department says air quality will be impacted until the fire is under control. Residents are advised to keep all windows closed and stay inside if possible.
Utica Fire Chief Scott Ingersoll says fire crews are expected to be battling the blaze for 24-48 hours.
Firefighter, Andrew Huther captured video of the massive blaze at the mall on the Utica/Herkimer County line.
Heather Mundrick, an EMS working the fire from the Herkimer side and said there is "lots of structural collapse."
Firefighters from several departments, including Utica, Frankfort and Schuyler were called to help battle the blaze.
Take a look at the massive fire. If you have any pictures, email Polly@BigFrog104.com.
Charlestown USA Mall Fire
The CharlesTown USA Mall started as a manufacturing plant during WWI and WWII and was turned into an outlet mall in 1982. The mall closed in 1991 and became a business complex, according to the Standard Journal.
In 1969 the mall was added to the National Register of Historic Places.
Look Inside CharlesTown USA Mall