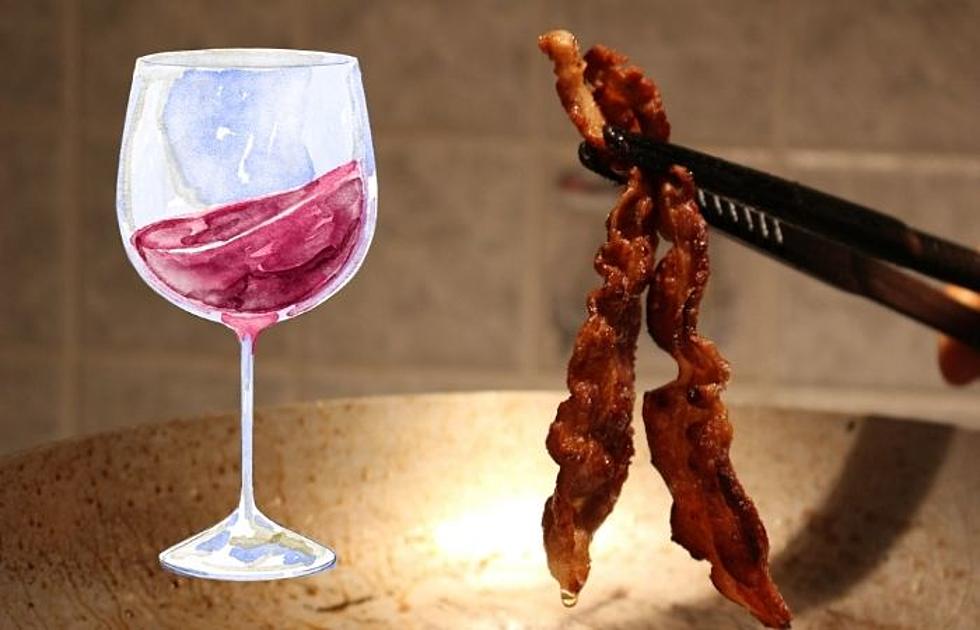 Lavish Wine And Bacon Event With Breathtaking Views In Western New York
Canva
After a short 2-hour drive, you'll find yourself in wine and bacon heaven. Oh, YES, wine paired with bacon-inspired food at the Bacon on the Lakein 2021.
It was painful when the event was canceled last year, but they're happy to announce you can get your bacon fix this weekend at The Cayuga Lake Wine Trail. They guarantee the event will be safe, delicious, and wine will be flowing with a heavy smell of bacon in the air.
Bacon on the Lakein 2021 is held at the Cayuga Lake Wine Trail, 2770 Ernsberger Rd, Romulus, NY Friday, April 16, Saturday (sold out), and Sunday, April 18. Tickets are sold in bundles of 4 for $240 or $60 per person. Your ticket includes a bacon-inspired dish at six wineries, and you'll taste four wines that pair with it. The Cayuga Lake Wine Trail lists it like this:
A bacon-inspired food dish large enough for at least 3 to 4 bites, if not more, at all 6 wineries.
4 wines paired with it, also at all 6 stops.
A digital recipe book for all 12 food options.
A souvenir stemless wine glass to take home at your last stop.
There are about 50 itineraries to choose from, with all 12 wineries being a starting point. (10 on Friday*).
Participating Wineries:
Montezuma Winery*
Swedish Hill Winery*
Varick Winery*
Knapp Winery*
Goose Watch Winery*
Buttonwood Grove Winery*
Toro Run Winery*
Cayuga Ridge Estate Winery
Thirsty Owl Wine Co.*
Hosmer Winery*
Lucas Vineyards
Americana Vineyards*
Once you purchase your tickets, you'll need to fill out an itinerary to help keep the wineries from getting overwhelmed and becoming non-compliant throughout the day. You will be required to wear your mask, stay within your "covid crew."
Sounds like some civilized fun, right? Get your friends together and enjoy a day of wine and bacon. Visit www.cayugawinetrail.com for more details and to register.
*Important* The number in the dropdown box is how many tables/bundles of 4 are available, not how many people you're buying for.
What Are the Signature Drinks From Every State?
See the Must-Drive Roads in Every State