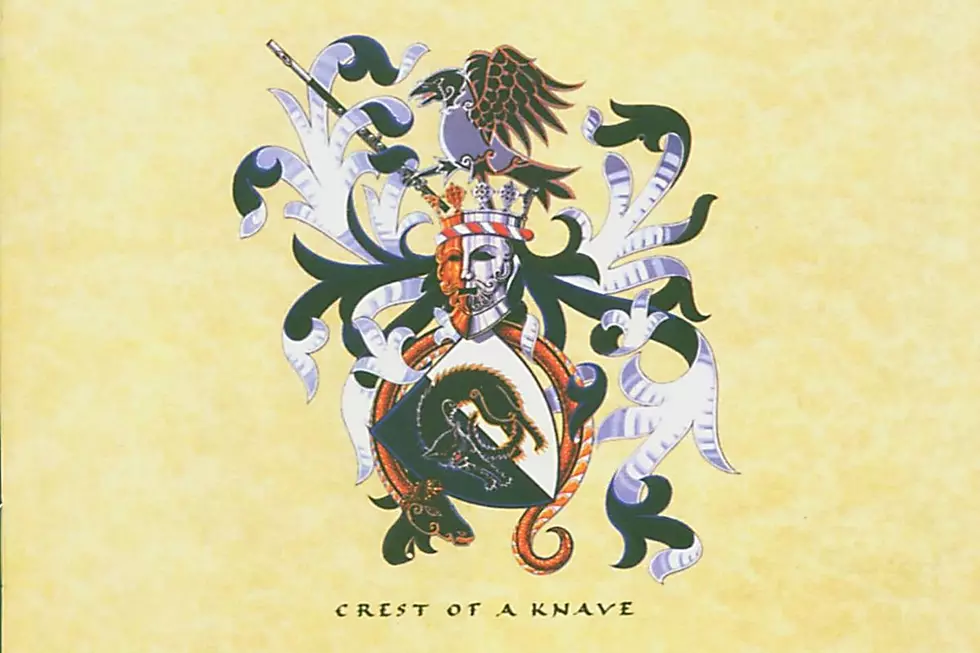 When Things Got Heavy for Jethro Tull on 'Crest of a Knave'
Chrysalis
It's unlikely that Jethro Tull leader Ian Anderson ever thought his band would be spoken of alongside Metallica, but that's exactly what happened after the release of Tull's 16th album, Crest of a Knave, which was released on Sept. 11, 1987.
The British prog giants had reconvened after a hiatus forced on them by Anderson's  throat surgery, and they aimed to change tack following the disappointing response to 1984's Under Wraps, which had seen them pursue electronic sounds. With Crest of a Knave, they wanted to turn back toward their trademark mix of acoustic and electric styles – though Anderson did use drum programming instead of drummer Doane Perry on two tracks, "Steel Monkey" and "Raising Steam."
"I was fairly selfish in doing all the writing and the arranging by myself, without inviting the participation of the other members of the group," Anderson said in a never-aired TV interview recorded at the time. "Most of the Jethro Tull records, contrary to popular suspicion, have not been autocratic – they've actually been very democratic.
"In terms of style," Anderson added, "it probably represents the kind of music that I feel happy doing, which is underpinned by a basis in the blues. Not the traditional or academic sense, but in the third- or fourth-generation white-man's blues, in the sense that we and others were playing it in '69, '70 or whatever."
While the album also featured Jethro Tull epics like "Farm on the Freeway" and "Budapest," critics noted the significant change in Anderson's voice after his surgery and the heavier-than-usual reliance on Martin Barre's electric guitar.
In some quarters, the LP was compared to Dire Straits. "We were, in fact, heavily criticized for the Dire Straits flavor of the last album," Anderson told Paul Roland in 2012. "Martin Barre and I consciously made an effort to avoid that kind of delivery on the new one.
"So Martin used less of the single coil pickup, and I pitched the songs that bit higher and sang them more forcefully, as I used to do," Anderson said. "I was trying to act out the songs a bit more, at the same time singing in a lower register and more quietly to save my vocal cords. I was worried about my ability to sing at that peak for two hours on stage night after night."
Listen to Jethro Tull Perform 'Farm on the Freeway'
Regardless how it happened, the new edge brought Tull a significant increase in airplay when "Steel Monkey" was released as a single, followed by an unusually high number of other tracks – like "Said She Was a Dancer," "Jump Start," "Farm on the Freeway" and "Budapest" – that found airplay.
Crest of a Knave went gold in the U.S., where it reached the Top 40. In the U.K., the album made it to the Top 20, and "Mountain Men," with its examination of long-past and recent wars, resonated with fans. Crest of a Knave quickly became Jethro Tull's most commercially successful studio project in the States.
But then the backlash started. In 1988, the National Academy of Recording Arts and Sciences finally decided to hand out a Grammy Award specifically to heavier music, and the first-ever Best Hard Rock/Metal Performance (Vocal or Instrumental) went to Jethro Tull.
That surprised critics, who'd expected Jane's Addiction's Nothing's Shocking to win; it also surprised the metal community, which thought Metallica's … And Justice for All would win the award.
Nobody from Jethro Tull attended the awards ceremony in February 1989 because they'd been told they'd never win. It didn't help matters that an ad taken out by Tull's record company congratulating the band on its win –  which cheekily proclaimed "The flute is a heavy metal instrument" – did nothing to calm the metal community.
"No one paid any attention to the fact that we were nominated," Anderson told Powerline in 2012. "They thought, 'There's no way Jethro Tull are going to win it. It's going to be Metallica, because they were the huge, new, straight-out-of-the-box, enormous, hit talent that year.' Everybody took it for granted that Metallica were going to win the Grammy, including Metallica themselves.
"It was ordered to Jethro Tull," Anderson marveled, "to a barrage of boos and hisses and gasps of disbelief. I'd like to think it wasn't that the National Academy of Recording Arts and Sciences were voting for Jethro Tull as a heavy rock band or a heavy metal band: They gave us the award because we were a bunch of nice guys who'd never won a Grammy before."
He admitted during that interview that Crest of a Knave "was a pretty good album. It had some good tunes on it. But I don't think anyone would possibly believe it was a hard rock or heavy metal album. But what the hell? It's just one of those moments."
Interestingly enough, in the never-aired TV interview recorded long before the Grammy controversy, Anderson said, "We are thought of, I would think, as being a kind of heavy metal group with mandolins."
Metallica received a Grammy in 1992 for the Black Album , drummer Lars Ulrich began his acceptance speech by acknowledging Jethro Tull's earlier win: "The first thing we've got to do, obviously, which you guys are expecting, is we've got to thank Jethro Tull for not putting an album out this year," he joked.
Still, Crest of a Knave has a legacy greater than "just one of those moments": Both "Farm on the Freeway" and "Budapest" remained regulars in both Jethro Tull and Anderson's solo sets.
Top 50 Progressive Rock Albums
From 'The Lamb' to 'Octopus' to 'The Snow Goose' — the best LPs that dream beyond 4/4.
The Rush / Metallica Team-Up That Slipped Away