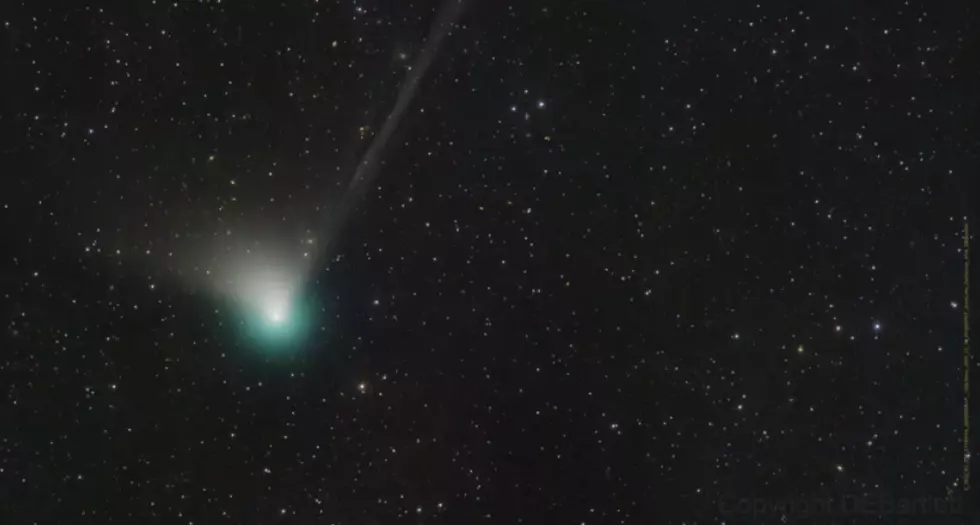 Rare Comet In the Skies of New York? Hasn't Been Seen In 50,000 Years
science.nasa.gov Dan Bartlett
When was the last time you stopped to stare at the night sky? I did this the other night while I was walking the dog and I was reminded just how small we are and how mysterious the stars can be. Next time you do some star-gazing you might just see something extremely rare.
There is a comet that is traveling through space that hasn't been seen in 50,000 years. Can you wrap your head around that? We are talking Ice Age, mammoths, Neanderthals and mastodons. Well, it's back and won't be seen for another 50,000 years.
According to NASA, now is your chance to see Comet C/2022 E3 (ZTF). This isn't like a shooting star where it comes and goes in a flash and you ask "did you see that"? This has been described as a long-period comet giving you a period of time to witness it.
Comet C/2022E3 (ZTF) was discovered in March of 2022 by a camera at the Zwicky Transient Facility at the Palomar Observatory in Palomar Mountain, California. Astronomers at the observatory describe this comet as having a bright greenish color with a short broad dust tail. So when can we see this in New York State?
Astronomers suggest that this comet will be closest to the Sun today, January 12th. As it continues it's journey through space the comet will be closest to Earth on February 1st. That gives us 3 weeks for the chance to see something very rare.
NASA scientists indicate that the brightness of comets is notoriously unpredictable. Your best chance of seeing C/2022 E3 (ZTF) in New York is at nighttime. Between now and February 3rd, find a dark spot away from street lights and look up.
Mysterious Rings Seen in the Sky Around the World
While many of these ring-like clouds are easily explained, some remain a mystery. What do you think causes some of these strange circles seen over various parts of the world, including the Hudson Valley?
How To Take Photos of the Moon Like a Pro
Have you ever taken a picture of the moon and it winds up looking nothing like what you see with your eyes, and instead just a blurry white dot in a dark sky?
You don't need thousands of dollars of equipment to create some really amazing images. Here's how to do it:
READ ON: See the States Where People Live the Longest
Read on to learn the average life expectancy in each state.