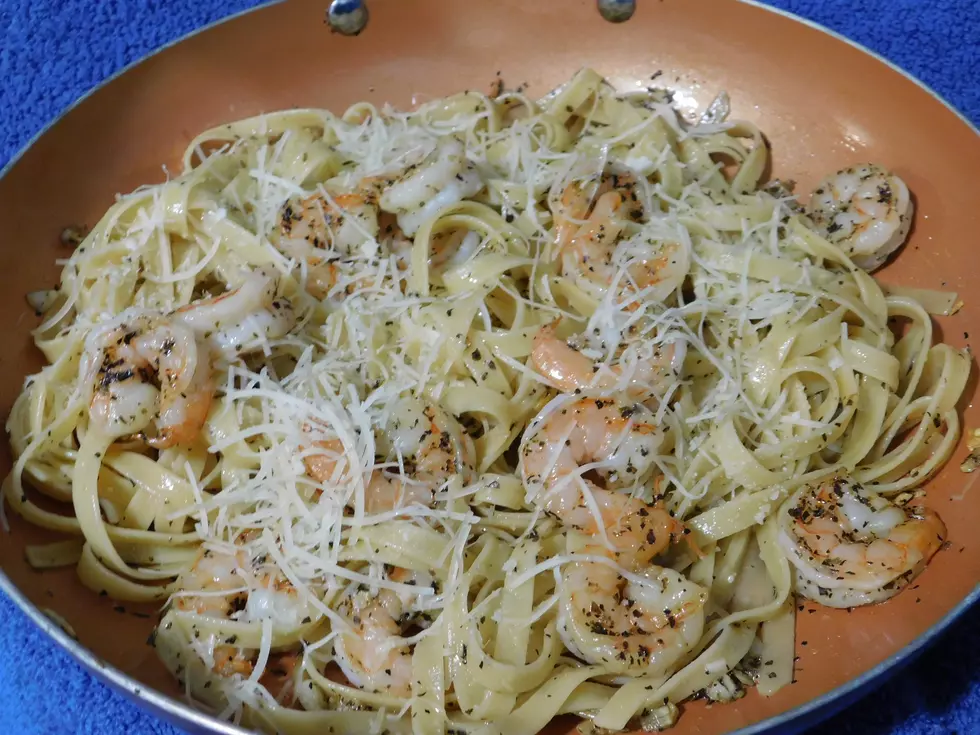 Foodie Friday Shrimp Scampi (with make-ahead hack)
Kathy Whyte/WNBF News
Instead of spending $11 or more at a restaurant, you can have this seafood favorite in just minutes at home and adjust the seasonings as you like.  When you see how easy this is, you'll wonder why you've been paying restaurant prices all these years!
Shrimp Scampi (Prep. time 15 min.  Serves 2)
1 Tb. finely minced fresh basil or 2 tsp. dried basil
1/2 tsp. ground black pepper
12 large, raw shrimp, peeled & deveined
1/4 C. grated Parmesan cheese
Make ahead tip:  boil salted water and cook fettuccine according to package directions until tender.  Drain and transfer to the (cool)  large saute pan in which you will be making the dish.  Drizzle with 1 Tb. olive oil and toss to thoroughly coat.  Once the pasta is cool, place in a large, zip-top freezer bag or bowl covered in plastic wrap and set aside until ready to cook the scampi.  The oil will keep the cooked pasta from clumping together into a pasty goo.
(Boil the water and cook the pasta as with the make-ahead step.) Heat 2 Tb. olive oil & 1 Tb. butter over medium high heat in the large saute pan.  Stir in garlic and cook about 2 minutes until tender but not brown.  Add oregano & basil.  Stir in shrimp, cooking about 2 minutes on each side until it just starts to turn pink.  Add the cooked, drained pasta to the pan and toss.  Continue to saute until the shrimp is pink and pasta is hot.  Season with salt and pepper to taste (remember, the Parmesan will add more saltiness). Add the Parmesan and toss together.  Finish with the splash of vinegar or squeeze a half lemon over the top before serving for an added brightness to the flavor.  Garnish with a little additional Parm. and fresh basil.  Serve with warm Italian bread and a tossed salad.