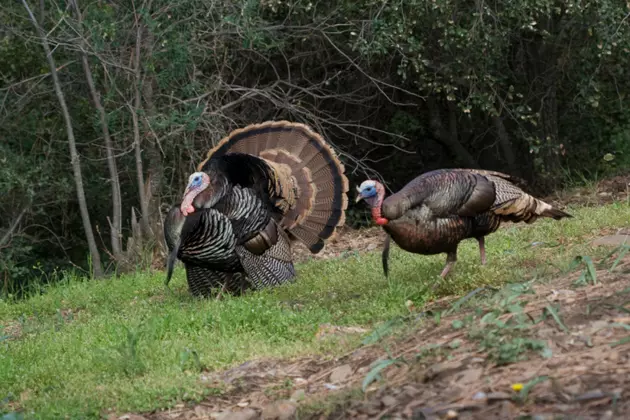 DEC Seeks Landowners To Assist With Wild Turkey Research
Joan Wynn/ThinkStock
Wild Turkey Survival Study to Begin in January; Findings Will Help Assess Fall Season Changes
New York State Department of Environmental Conservation (DEC) Acting Commissioner Basil Seggos today announced the kickoff of the fourth year of a research project on wild turkey survival rates to help improve the management of this popular game bird.
"DEC and its partners have worked hard over the past three years to better understand why wild turkey populations have changed dramatically in New York," Acting Commissioner Seggos said. "This project will provide valuable information on turkey survival and harvest and will help evaluate the changes to fall hunting seasons implemented in 2016. I encourage landowners that have wild turkey on their property this winter to consider participating in this study."
DEC is looking for landowners in DEC Regions 3 through 9 interested in allowing birds to be trapped on their land, as well as alerting project coordinators when they see turkeys on their property on a regular basis. Once turkeys are trapped and banded, they will immediately be released at the same location. Not all locations are suitable for deploying capture equipment, so landowners should contact their regional project coordinator to discuss the suitability of their property. Observations of turkey flocks during January through March can be reported to the project coordinator for that region or can be reported using the Winter Flock Survey form found on DEC's website.
For more information on this project, contact the regional project coordinator below or DEC by e-mail at wildlife@dec.ny.gov. "Turkey Study" should be listed as the subject line in any e-mails.
| | | |
| --- | --- | --- |
| DEC Region | Project Coordinator | Counties |
| 3 | Jonathan Russell (845) 256‑3087 NYSDEC, Bureau of Wildlife 21 South Putt Corners Rd. New Paltz, NY 12561 | Dutchess, Orange, Putnam, Rockland, Sullivan, Ulster, and Westchester |
| 4 | Karl Parker (518) 357‑2154 NYSDEC, Bureau of Wildlife 1150 N. Westcott Rd. Schenectady, NY 12306 | Albany, Columbia, Delaware, Greene, Montgomery, Otsego, Rensselaer, Schenectady and Schoharie |
| 5 | Melissa Neely (518) 623‑1273 NYSDEC, Bureau of Wildlife Hudson St. Extension Warrensburg, NY 12885 | Clinton, Essex, Franklin, Fulton, Hamilton, Saratoga, Warren, and Washington |
| 6 | Jeff Eller (315) 785‑2262 NYSDEC, Bureau of Wildlife 317 Washington St. Watertown, NY 13601 | Herkimer, Jefferson, Lewis, Oneida, and St. Lawrence |
| 7 | Lance Clark (607) 753‑3095 NYSDEC, Bureau of Wildlife 1285 Fisher Ave. Cortland, NY 13045 | Broome, Cayuga, Chenango, Cortland, Madison, Onondaga, Oswego, Tioga, and Tompkins |
| 8 | Scott Smith (607) 776‑2165 (ext. 16) NYSDEC, Bureau of Wildlife 7291 Coon Rd. Bath, NY 14810 | Chemung, Genesee, Livingston, Monroe, Ontario, Orleans, Schuyler, Seneca, Steuben, Wayne, and Yates |
| 9 | Emilio Rende (716) 372‑0645 NYSDEC, Bureau of Wildlife 182 E. Union St. Allegany, NY 14706 | Allegany, Cattaraugus, Chautauqua, Erie, Niagara, and Wyoming |
| Central Office | Michael Schiavone (518) 402‑8886 NYSDEC, Bureau of Wildlife 625 Broadway, 5thFloor Albany, NY 12233‑4754 | Statewide Coordination |