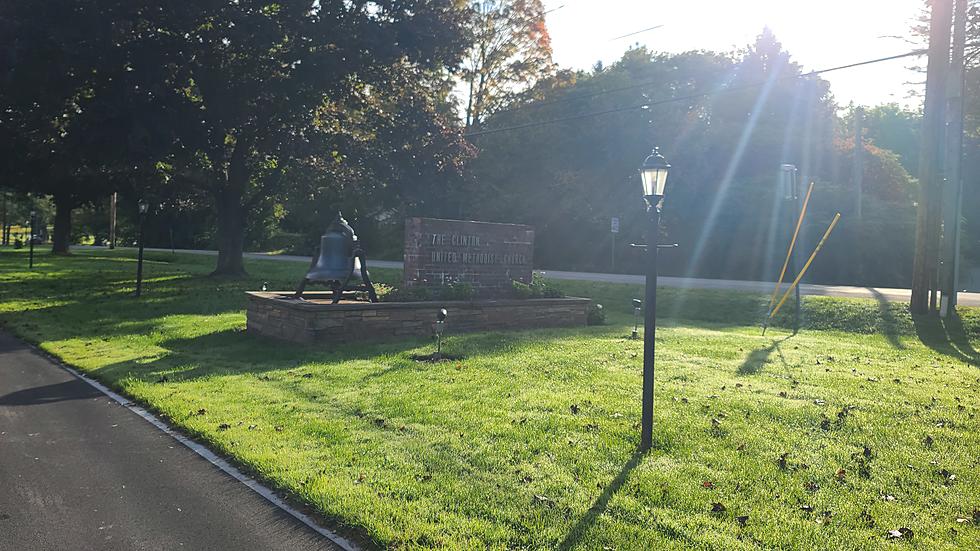 Clinton New York Church Having a Rummage Sale
Hyde/TSM
Today is the last day to check out the rummage sale at The Clinton United Methodist Church.
I have to say, it is worth the stop to check out the things you can find.
First of all, the people were so helpful and kind. There are a few things with set prices, but for the most part, all they are asking is a donation.
The proceeds from the sale were going to local mission programs in the community. So it was best to be generous.
But what treasures were there to be found?
It was hard not to leave with this pandemic relic. Utilizing the Rolling Stones tongue to remind people to get tested was a bold move and I was here for it.
Folding bikes are so cool. Easy transport and storage. I passed on this, though I regretted it instantly.
So many clothes. There was a lot of older items as well as newer and all in decent condition. If you have time to browse, you could walk away with some gems.
Check that blast from the past tag. Bradlees is a nostalgic favorite and I almost bought this Animated Santa Claus just for the sticker.
Retro exercise equipment just hits different. And this bike is so brown. Let's not forget how brown the 80s really were. Neon may be how those who didn't experience the 80s think they looked, but I assure you, there was so much brown to be had.
Friday is your last chance to find your own treasures. Good luck and happy hunting.
Why Were 1000s of Toys Left to Rot Inside Decaying Albany Warehouse?
WARNING: Under no circumstances should you enter this property. By doing so you risk bodily harm and/or prosecution for trespassing on private property.

YouTuber's discovered something odd when they recently explored the decaying First Prize Center in Albany.
Sad Images From the Final Days of the Hudson Valley's Last Toys R Us
In 2018 the Hudson Valley said farewell to its last Toys R Us location. It was the end of an era, and many customers were overcome with emotions when the store on Route 9 in Poughkeepsie finally shut its doors for the last time. Here's a peek inside the final days of the beloved toy store, with some images courtesy of a YouTube photographer who
toured the store one last time just days before it closed
.
LOOK AROUND: See What's Replaced The Old Toys 'R Us Building In Johnson City
The Johnson City Toys 'R Us is gone after three decades in the Southern Tier. After a few years of sitting empty, something has finally taken its place.