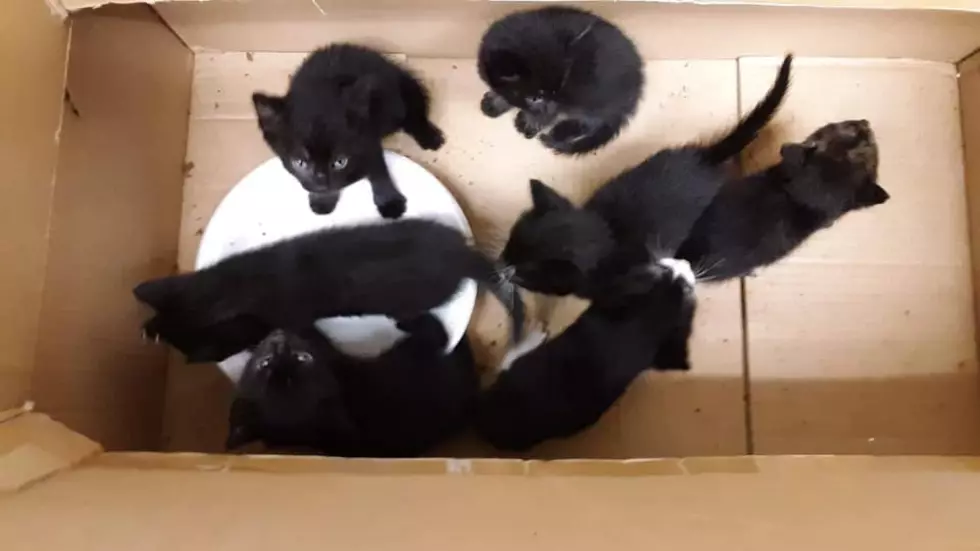 7 Kittens Found Abandoned In Cardboard Box On The Side Of The Road In CNY
Susquehanna SPCA
These seven kittens were found alongside the road and saved by good samaritans. The SPCA is actively searching for the mother.
Unwanted kittens are being dumped, thrown out of cars, taped inside boxes, and more across CNY. Someone close to this case, says the seven rescued kittens were found on Taylor Road in Richfield Springs in Otsego County. They are about four weeks old and are now eating a slurry of formula/canned kitten pate. The Susquehanna SPCA is actively looking for the mother cat.
These babies were picked up alongside the road in this box just a few minutes ago near Richfield Springs. If you know who may have done it, please have them call the shelter at (607) 547-8111, ext 108 or send us a message. No judgment - we want to make sure if the mom was left along the road with them we go back to find her or maybe she is somewhere else we can find her. Her kitties need her for a couple of more weeks. They will be warm, comfortable, and fed tonight but let's reunite them with their mama if we can! [Susquehanna SPCA]
We asked Stacie Haynes, Executive Director, what people should do with unwanted kittens:
I believe it is most responsible to contact a local animal shelter who has the resources to provide the kittens with a health assessment and whatever their needs are determined to be. If you can't find a shelter that has space to take them, the shelter should be able to advise folks on the best way to keep them safe and healthy until a better option becomes available. We do that here. If we have a waiting list, we will go out of our way to make sure the folks taking care of the kittens have everything they might need to keep them safe and healthy until we can take them in. For example, we might give them a dog crate to keep them in and food, including kitten formula.
The Susquehanna SPCA uses shelter volunteers to help tame feral and unsocialized kittens with their Feral to Friendly program. Cats of all ages, even newborns, are being surrendered to animal shelters at alarming rates every day. Most of these kittens are untamed and must be handled to give them a better chance of being adopted. SQSPCA Executive Director Stacie Haynes says:
"The socialization period for cats occurs between 2 and 7 weeks of age but can extend up to 14 weeks...The majority of kittens brought to us have had very limited exposure to humans, so our animal care staff works with them as much as possible in between cleaning, intakes, dog and cat meets, and adoptions,"
Enter your number to get our free mobile app
---
---
OH NO WE DIDN'T: 12 Photos That Prove That Alpacas Are Cuter Than Llamas