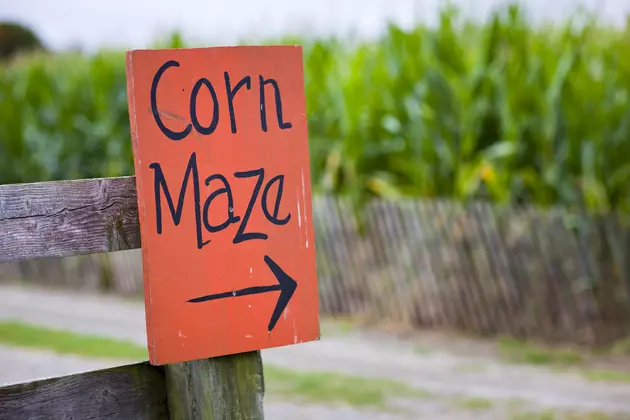 5 CNY Corn Mazes To Get Lost In And Scare Yourself
photo credit - stu99/ThinkStock
If you love Autumn like I do, the time of year when you trade in short sleeves for long and shorts to jeans, then we have some great corn maze destinations you should visit.  Don't forget after you find your way out of the maze, you'll want to pick out a pumpkin or two and grab a bag of fresh crisp apples, freshly squeezed cider, homemade pie or donuts,  We have so many great options to choose from, visit one or visit them all.
Here are five mazes to start you out:
Abbott Farms, Baldwinsville
The season is August to October and ours are 10 am to 6 pm
Address 3275 Cold Springs Road, Baldwinsville, NY 1302. The cost is $7.
You can also enjoy bounce houses, apple cannon and wagon rides along with U-pick.
Cambria Corn Maze, Lockport
The season opens Sept 8th and the hours are Thursday and Friday, 3 pm to 8 pm Saturday and Sunday hours 10 am to 9:30
Address 5274 Lockport Junction Road, Lockport, NY 14094
Cost is $10, kids 5-14 the cost is $5.  Kids 4 and under are free.  Enjoy a corn cannon, kettle corn, and kiddie maze.
The season September 15 to October 25
The hours are 10 am to 5 pm
The address is 3232 Rippleton Road, State Route 13, Cazenovia, NY 13035
Cost is $8.50.  Also enjoy live entertainment, a playground, tasting room and wagon rides.
Ellms Family Farm, Ballston Spa
The season begins September 15 - October 28.  The address is 448 Charlton Road, Ballston Spa, NY 12020.  You may also enjoy, the chicken show, train, jump park and zip line.  Cost is $17.50
Their season is all of Fall.
Address  463 Garfield Road, Troy, NY 12180,  The cost is only $5.  You may also enjoy zip line, pumpkin patch, and hayrides.