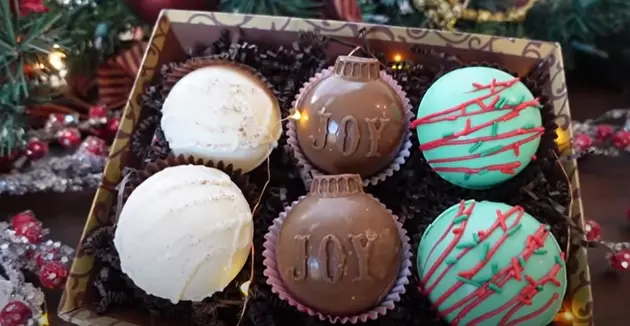 What is a "Hot Cocoa Bomb" and Where Do I Find One?
Credit: Tasty Pastry Kitchen via YouTube
The holiday season is right around the corner and if you're thinking to yourself "I have absolutely no idea what to get this person" - well, there's an amazing gift I think anyone will love.
Hot Cocoa Bombs have been taking the social media world by storm. Think of it like a bath bomb, except it creates a delicious cup of hot cocoa for you instead. All the ingredients are inside the hollowed out chocolate sphere to make it taste amazing.
The first time I saw it in a TikTok video, I thought to myself how genius of an idea this was and wondered a few different things: how does one make a hot cocoa bomb, and where can I get my hands on them?
The cool thing is that you can get in a couple of different places. They were on the shelves locally at Target in New Hartford, and then at Walmart. Not sure if they're still available there, but it doesn't hurt to check. I'm sure you'll be able to find them in stores closer to the holidays too since they've become so popular this year.
Enter your number to get our free mobile app
You can also find them on Etsy. If you're looking support locally, there's also a couple of different small owned, Mohawk Valley businesses that are offering them!
For Heaven's Cakes in Oriskany is selling different flavors.
Crafty Treasures also has some available.
If you're feeling a little bit adventurous, here's a great video for a little DIY action.
CHECK THEM OUT: 100 years of Christmas toys, gifts and fads