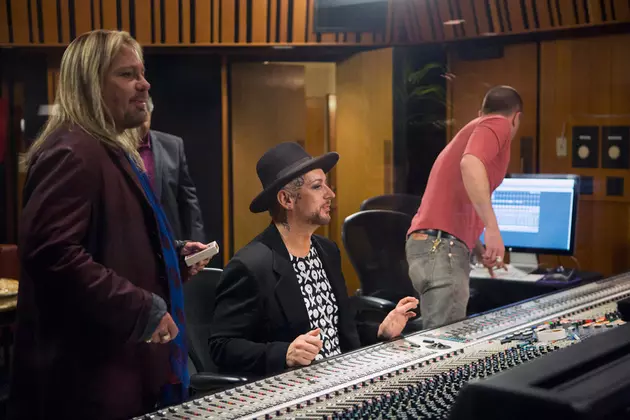 Vince Neil Tells Boy George 'You Can't Put Your Sobriety on Everybody Else' on 'Celebrity Apprentice'
Luis Trinh / NBC
Vince Neil didn't appreciate it when Boy George criticized him for drinking while the two worked on a jingle together during tonight's season premiere of Celebrity Apprentice.
After the former Motley Crue singer mostly flew under the radar during the first of the show's two challenges, he drew the ire of his fellow '80s star by bringing wine into the studio. "I was a little alarmed. I'm a recovering addict," Culture Club frontman George explained. "I do not need to be in the room with someone drinking alcohol. It's just not a good look for me. I'm not happy about it at all."
But Neil was unrepentant. "I love to have a couple of glasses of wine while I work," he said. "It helps you relax a little bit. If I'm laying on the floor with a bottle of vodka, then there's a problem." The two clashed again later in the episode after George complained that their team's video needed further editing. "This isn't a dance video, this isn't England [in the] 1960s," Neil quipped.
During the show's climatic boardroom scene, in front of new show boss Arnold Schwarzenegger, George quickly broached the subject again: "You know, cocktails in the afternoon is a bit Jacqueline Susann for me, I just didn't want to be around that."
"I disagree with that completely," Neil immediately shot back. "Having a glass of wine while you're working is the way I've always worked in the studio. It doesn't hamper anything at all. To me, it makes it a little more creative. It's just a couple of glasses of wine. And you can't put your sobriety on everybody else. ... If you choose not to drink, don't drink. But I'm way over 21. And I think, what I contributed to the song was ..  the song."
As it turns out, all this fighting was for naught, as George and Neil's team won the challenge, curiously enough causing Beach Boys star Brian Wilson's daughter Carnie Wilson (of Wilson Phillips) to be, yeah, you guessed it, "terminated." Schwarzenegger suggested the duo celebrate with "a bit of champagne," although after pausing for a second he added, "Not you, Vince."