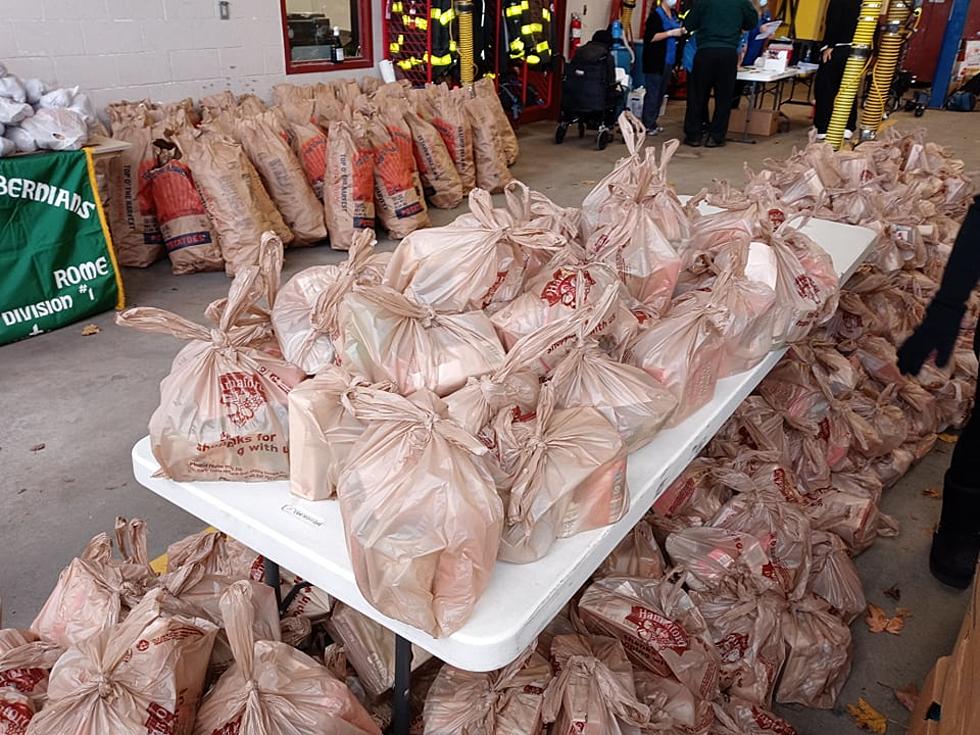 Utica Food Pantry Holds Annual Turkey Giveaway For Those In Need
Dave Smith, WIBX
The Utica Food Pantry held its annual Turkey Giveaway at Utica's Central Fire Station on Bleecker Street on Monday.
Turkeys and all the trimmings were handed out.
Assemblywoman Marianne Butternchon joined in on the turkey giveaway
COVID-19 vaccinations were also offered for those in need.
"I appreciate Assemblywomen Buttenschon's continuous support of the mission of panty and the well-being of our residents.  Combining a COVID vaccination POD with our annual turkey/trimmings giveaway is an outstanding collaboration.  Every year we receive many generous donations and will still are accepting turkey/food donations through Sunday and ongoing monetary donations," said Food Pantry President Russell Brooks.
The Utica Food Pantry operates year-round in the lower level of the CNY Veteran's Outreach Center in downtown Utica.
Utica Food Pantry's Annual Turkey Giveaway
The Utica Food Pantry's Annual Turkey Giveaway took place at Utica's Central Fire Station on Bleecker Street
11 Ways to Avoid Getting Ripped Off When Holiday Shopping Online
The world-wide shipping delays have shoppers buying holiday gifts early this year and much of the commerce is happening online. After all, how can you avoid the amazing deals? Now more than ever, these amazing deals are shady transactions that look authentic and safe.
One way to shop safely online is to buy from local vendor websites, or visit sites like Etsy which touts small meaningful gifts, often times created by small businesses and crafters.
The Better Business Bureau recommends online buyers do research before they click the checkout button.
Here are 11 things you can do to avoid getting ripped off online, according to the Better Business Bureau.
Amazing 2021 Gingerbread Village at Turning Stone
Take a look at the 2021 Gingerbread Village, in its new location at Turning Stone Resort Casino in Verona, New York.
Rare Schultz & Dooley Stein For Sale At Staggering Price
If you want to buy this, hustle because you never know when they will sell or hit the market again. Check out
this link
for the $2,000 50th anniversary edition.