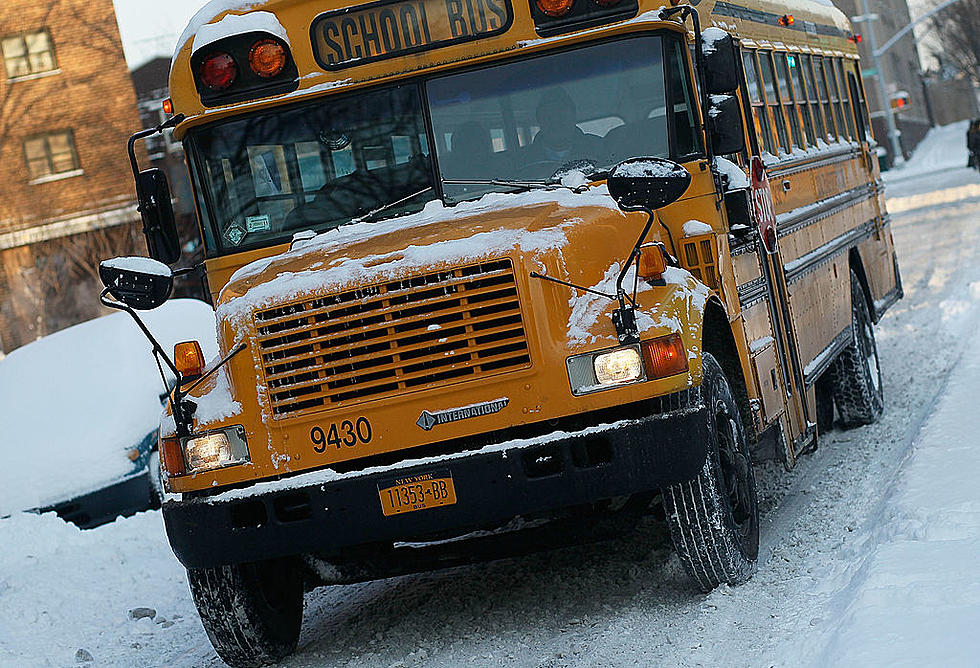 School Closings and Delays – Wed. Feb 7, 2018
Photo Credit - Chris Hondros / Getty Images
The following list includes school closing and delay information for Mohawk Valley school on Wednesday, February 7, 2018:
Closed
Adirondack
ARC Oneida-Lewis Chapter (Staff Still Reports)
Brookfield
Camden
Canastota
Central Valley
Clinton
Dolgeville
Edmeston
Frankfort-Schuyler
Hamilton
Herkimer BOCES
Herkimer Central
Herkimer College
Holland Patent
Madison-Oneida BOCES
Morrisville-Eaton
Morrisville State College cancelling classes at noon
Mt Markham
New Hartford
New York Mills
Little Falls
Oneida City
Oneida-Herkimer-Madison BOCES
Oppenheim-Ephratah-St. Johnsville
Oriskany
Owen D Young
Poland
Remsen
Richfield Springs
Rome Public and Parochial
Sauquoit
Sherburne-Earlville
Stockbridge Valley
SUNY Poly Utica-Marcy campus, All afternoon and evening classes cancelled
Utica Notre Dame
Utica School District
VVS
Waterville
West Canada Valley
Westmoreland
Whitesboro
Annunciation Church in Clark Mills, Family Volunteer group cancelled.
All activities at St John the Baptist Church in Rome cancelled
The Oneida County History Center is closed
The Jackson Lunch Hour Series scheduled for 12:30 today at Utica College has been cancelled.
Upstate Family Health Center locations in Rome and Utica closing at noon.
YWCA Mohawk Valley offices at 7 Rutger Park, Utica, and the CAC in Ilion, will be closing at 10:30 a.m.
Utica College will be closing at 12:30
The Neighborhood Center will be closing all programs at 11:30
Resurrection Church in Rome, evening classes cancelled
Valley Family Health in Ilion closing at 12:00.
Utica Community Health closing at 12:30
All ACR Health office closing at 12:00
Lee Town Court cancelled and Lee Town Building closed
Mohawk Valley Credit Union closing at 2:00
Utica City hall closing at 1:30 and Common Council meeting cancelled
Utica Public Library closed
Rome YMCA closing at 5:00
Oneida City Courts closed
Slocum Dickson Medical Group closing at 4:00
Rome Memorial Hospital, Baby Care Basics class cancelled and Pre-Natal Clinic closing at 2:00
Village of Ilion Municipal Building is closed
Keep Up To Date
Take us everywhere you go with our new App. Listen live with all of your favorite shows with fewer commercials. The new app lets you call, message or tweet at us anytime or send us photos and videos. The app also gives you the ability to receive notifications about breaking news, weather alerts, traffic advisories and school closings happening in and around Central New York.
Winter Weather Preparation:
Keep your cell phone charged and make sure you know where your backup power supply is.
Make sure all your flashlights have fresh batteries.
Fill your gas tank. You can use your car to keep warm and recharge devices.
Have some food available that you don't need to cook.
Download the App. You'll receive local alerts, weather reports and more with push notifications.