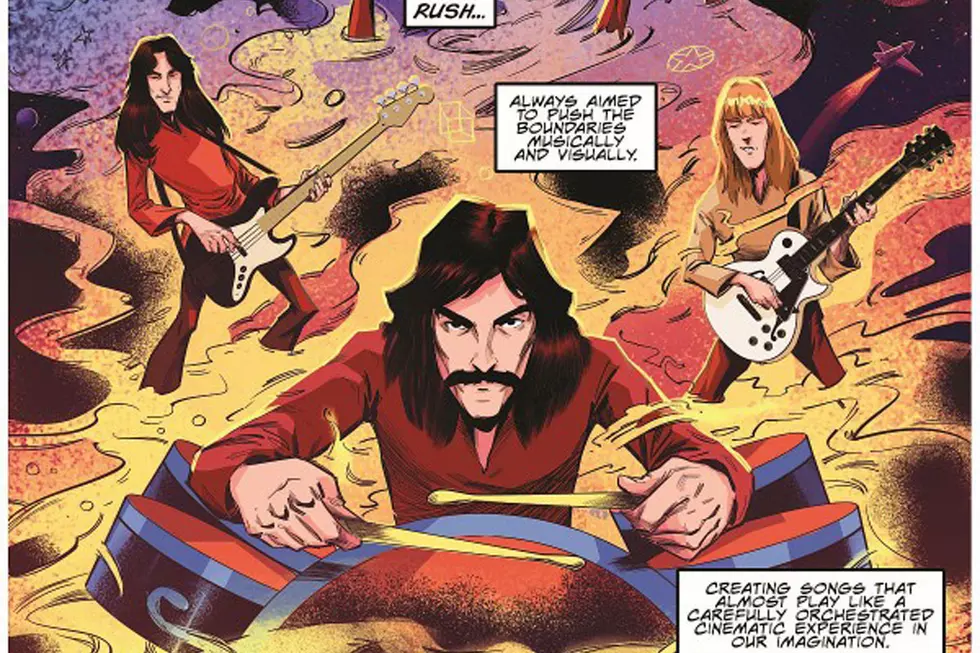 Rush to Release 'A Farewell to Kings' Graphic Novel
Fantoons
A band-authorized graphic novel chronicling the creation of Rush's A Farewell to Kings album will be released on Sept. 10. You can see six pages from the book below.
The 144-page The Making of A Farewell to Kings was created by the Fantoons animation studio with input from Rush guitarist Alex Lifeson and Kings album producer Terry Brown, who also wrote the book's forward.
Yet another project - a 70-page coloring book "packed with gorgeous Rush artwork and references from Moving Pictures to Clockwork Angels" is set to arrive in July.
Released in 1977, A Farewell to Kings was Rush's fifth studio effort. It found them beginning to experiment with synthesizers, and served as an important bridge between their early '70s hard-rock sound and the more focused approach of their later work. It's also home to their first significant U.S. radio hit, "Closer to the Heart," which helped earn the band their first gold album in the States.
"I learned a lot; I was learning a lot," bassist and singer Geddy Lee said of the album's creation in a 2017 interview with Prog. "I was always challenged and I was very stimulated and the end result was A Farewell to Kings, so I guess it was a pivotal record in that regard."
You can pre-order The Making of A Farewell to Kings from Rush's official website.