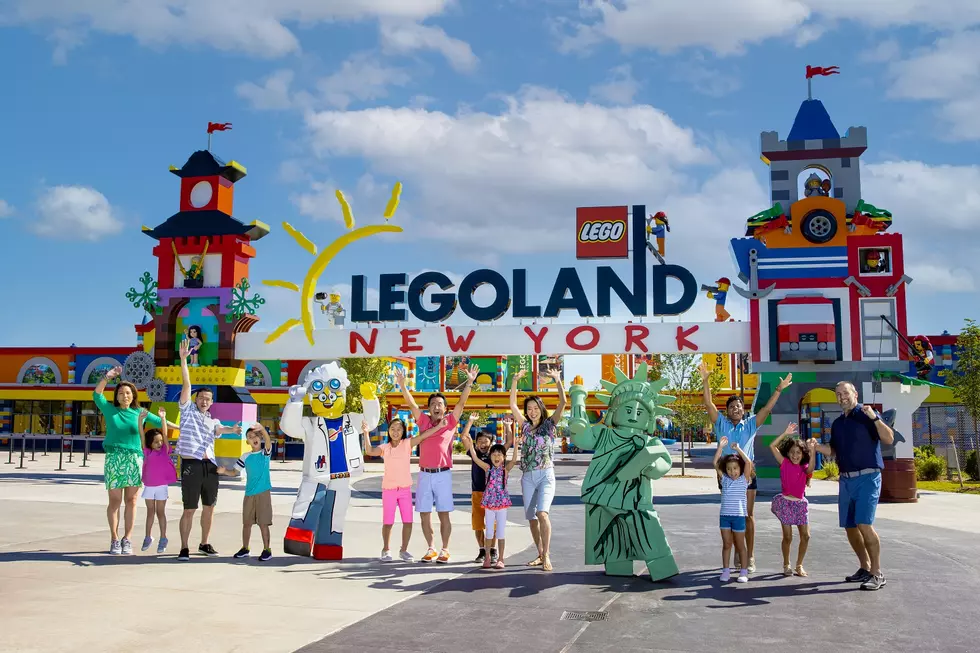 LEGOLAND New York To Open Water Playground For '23 Season [PHOTOS]
Press LLNY
As the LEGOLAND New York Theme Park and Resort gets ready to open for the 2023 season they are also preparing to launch their newest attraction.
As we are getting into our first real busy stretch of winter weather over the next week, the first signs that spring is right around the corner are starting to pop up.
The days are getting longer, Ground Hog Day is less than 2 weeks away, and the  LEGOLAND in Goshen, New York is getting ready to open for the 2023 Season on March 31st. Between the various themed LEGOLANDS at the park, all the great themed events, and the hotel at the park, it is super easy to make a weekend getaway with the kids a fun-filled experience. Now there will even be a new way to cool off in the summer months.
LEGOLAND New York Reveals New Water Playground
According to a LEGOLAND Press Release, the new water playground will open on Memorial Day weekend and will feature a LEGO boat, four water slides, and a giant 318-gallon water bucket.
LEGOLAND also announced they will be bringing back several of their popular seasonal events this year including their Red, White, and BOOOM for the 4th of July with 5 nights of fireworks and the Holiday Bricktacular in November and December to celebrate the holiday season.
Day passes are $59 a person and annual passes and vacation packages are also available for purchase here.
Take A Peak At Legoland's Water Playground Before It Opens
Here's a look at what the brand new Water Playground at LEGOLAND New York. You can build and race their own LEGO boat, go down the water slide, and get soaked under the giant water bucket.
14 Surprises You'll Find at the LEGOLAND Hotel in Goshen New York
A stay at the LEGOLAND hotel comes with some surprising perks. Whether you're planning a stay or just curious about what's behind those brightly-colored windows, scroll down to discover some of the best surprises waiting inside.
The 20 Most Surprising Things Found at LEGOLAND New York in Goshen
LEGOLAND New York in Goshen is officially opening this summer. Right now
special previews are going on
so that guests can get a sneak peek at what's in store when the park opens its gates. While we won't spoil all of the surprises, here are just some of the incredible little details that await you during your first visit to this incredible theme park.