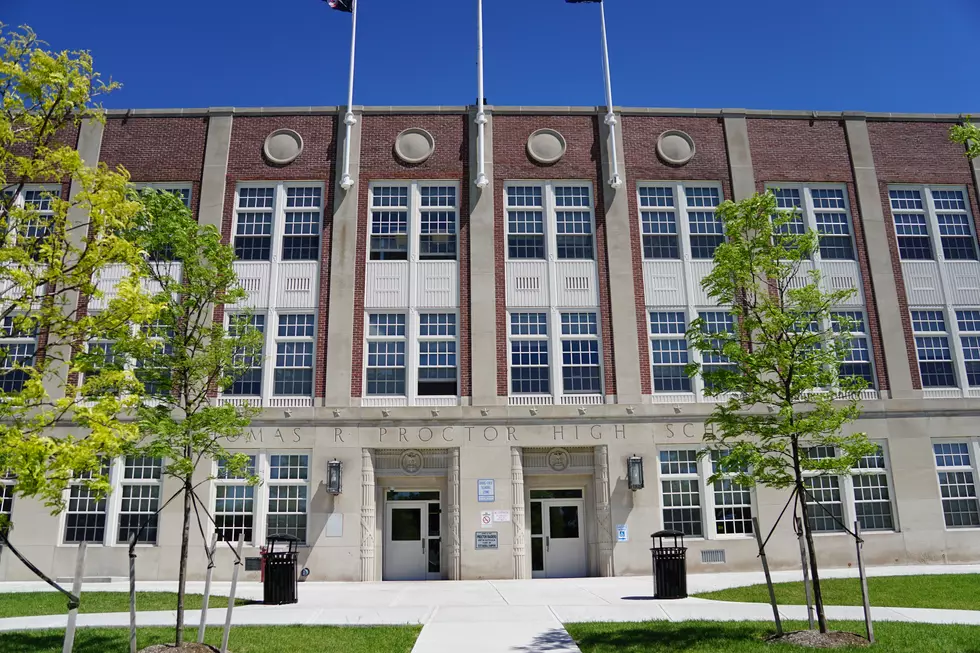 Utica School Board Issues Statement on Sudden Resignation Of Acting Superintendent
Proctor High School Photo Credit: P.W. Creighton/TSM
What prompted the quick and unexpected resignation of the acting superintendent of Utica schools is still unclear, but the school's board of education has issued a statement on Brian Nolan.
In it, the board ''extends its sincere gratitude to Mr. Brian Nolan for his service and support as Acting Superintendent of the Utica City School District since October 18, 2022. Throughout his seven months with the District, Mr. Nolan was an exemplary support of Utica's students, families and staff...", the statement read.
"On May 23, 2023, Mr. Nolan resigned for personal reasons form the position of Acting Superintendent...On behalf of the entire Utica CSD community, we thank Mr. Nolan for his leadership, collaboration and encouragement , and wish him all the best," the letter concluded.
Almost immediately following news of Nolan's departure on Tuesday evening, the board moved to elevate Steve Falchi as his replacement. Falchi's been with the UCSD for decades, serving previously as a teacher, assistant principal, principal of Proctor High School, and most recently in an administrative role.
The statement also said Falchi's temporary appointment to fill the vacancy is valid through June 30, 2023.
Superintendent Bruce Karam remains on paid administrative leave amid one or more investigations regarding the district. Included are claims that Karam created or contributed to a hostile work environment, including allegations of vulgar and disparaging remarks about teachers and administrators.
Current School Board President Joseph Hobika spoke with WIBX 950's Keeler in the Morning Show on Wednesday, saying simply that: "Mr. Nolan decided yesterday was his last day."
When WIBX 950 reached out to Nolan for comment, he directed us to Hobika in a text message saying: "Joe Hobika has all the answer." When asked for further explanation, again via text message, Nolan only replied that had resigned and had no futher comment.
World's Largest Dish of Pasta, and a Wedding - Utica, NY, Feb 14, 2004
The Guinness Book of World Records affirmed in 2004, that the World's Largest Dish of Pasta was made in Utica, NY with the Keeler Show. Now with WIBX, Keeler worked with Tony's Pizzeria and other to create a dish of pasta weighing over 7,000 lbs. and the event included an actual wedding. The dish of pasta weighed 7,355 lbs. (3,336 kg) and lasted in the Guinness Book for several years. The dish was assembled and the wedding was held at Sangertown Square in New Hartford, when Keeler was hosting a 6 night a week television show, The Keeler Show, on FOX 33 TV in Utica and FOX 68 in Syracuse.
Great Summer Jobs For High School & College Kids In New York
Did We Catch You Crossing The 2022 Utica Boilermaker Road Race Finish Line?
Boilermaker Sunday is back in July! The morning started with sunshine and brisk air. The finish line was already lined up with fans ready to cheer on their family and friends as early as 6:45 AM.
Scroll to see if we caught you crossing the finish line, or someone you know!
Congrats again to all the participants of the 2022 Boilermaker Road Race.
The Boilermaker Road Race took place Sunday, July 10th, 2022.