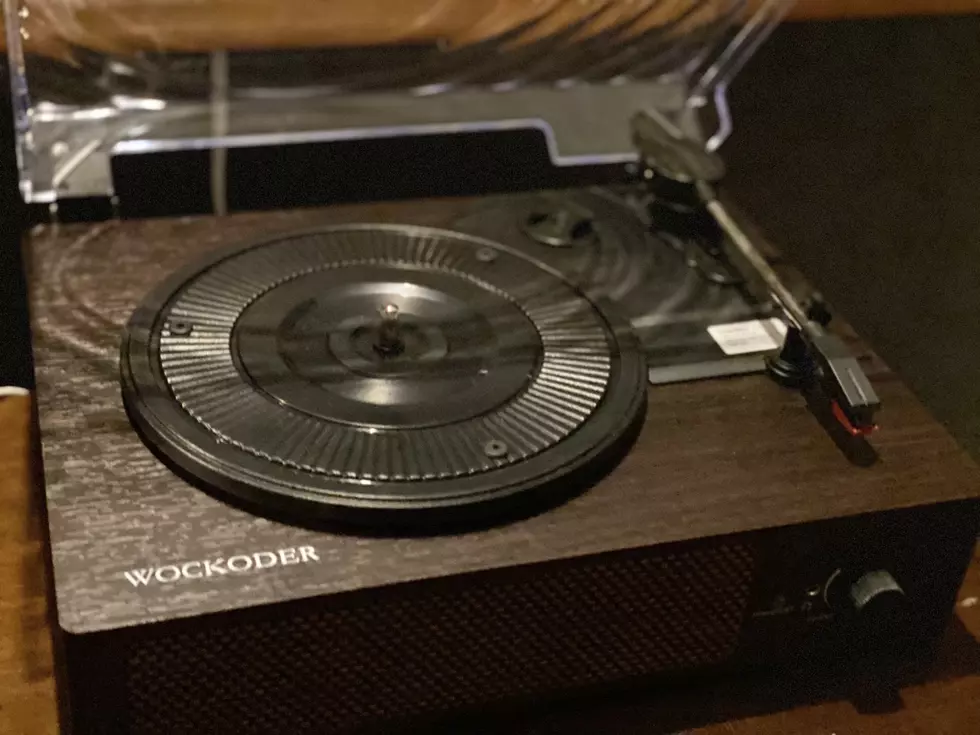 These 12 Vinyl Records Are Worth as Much as $9000
Photo by Bill Keeler / TSM
Central New York is plowing through the end of winter with spring just around the corner which means spring cleaning. It's a northeastern tradition as people try to get rid of the stuff in their homes that sadly collects dust and takes up space. But, be careful about throwing things out, you might be putting cash in the trash.
Vinyl records have made an incredible comeback win the last 10 years and values for those records considered collectible have skyrocketed.
If you have vinyl records packed away in your basement or attic, here's a list of 10 that might inspire you to rummage through the dusty boxes because there might just be a hidden gem there.
Mighty John the Record Guy, a regular guest on the Keeler in the Morning Show, is the expert we rely on when it comes to the value of records. Recently, John came up with a list of "10 Records Worth $100 or More," plus he added two bonus records valued in the thousands that he calls "Records You Should Know about." If you owned those two records you could sell them for as much as $15,000.
Listen to the complete interview with John below, and be sure to listen to the end when a listener called in to find out the value on a Beatles record he owns. It's an LP that a lot of people around here probably own, and the value was quite impressive.
10 Vinyl Records Worth $100, or More
w/ps= with picture sleeve
(Year) (Label)…(Recording artist)… (Title)……………………….…………….(Worth up to)
---
1961 RCA LP…The Tokens… "The Lion Sleeps Tonight" (stereo)…………….$125.00
(mono)……………….$40.00
---
1976 ABC LP…Jimmy Buffett… "Havana Day Dreamin"
includes "Please Take Your Drunkin 15-year-old girlfriend home"……..$150.00
(if not on record)………….$15.00
---
1965 Tamla LP…Marvin Gaye… "How Sweet It Is to be Loved by You"….$200.00
1957 Sun 78…Jerry Lee Lewis… "Great Balls of Fire"………………………..…..$300.00
(on a 45)………………...$50.00
---
1972 UNI LP…Elton John… "Honky Chateau" (photo pasted on cover)….$300.00
(photo printed on cover)….$20.00
---
1978 Rolling Stones 45…Rolling Stones… "Miss You/ Too Tough"…………$350.00
"Miss You/ Far Away Eyes"……..$5.00
---
1974 Moon LP… Rush… "Rush"……………………………………………………………..$700.00
---
1964 United Artists 45…George Martin… "A Hard Days Night" w/ps...$1,000.00
(sleeve pictures the Beatles)
---
1964 Annette 45… Bonnie Jo Mason (Cher)… "Ringo, I Love You"……….$1,000.00
---
1962 Motown 45…Supremes… "Your Heart Belongs to Me" w/ps……….$3,000.00
---
BONUS
Category: Pre War Blues
1931 OKEH 78…Mary Willis…"Talkin to You Wimmen About the Blues"…$6,000.00
---
Northern Soul
1966 Shrine 45…Jay Dee Bryant… "I Won't Be Coming Back"…………………$9,000.00
Visit John's website for appraisals along with everything vinyl.
World's Largest Dish of Pasta, and a Wedding - Utica, NY, Feb 14, 2004
The Guinness Book of World Records affirmed in 2004, that the World's Largest Dish of Pasta was made in Utica, NY with the Keeler Show. Now with WIBX, Keeler worked with Tony's Pizzeria and other to create a dish of pasta weighing over 7,000 lbs. and the event included an actual wedding. The dish of pasta weighed 7,355 lbs. (3,336 kg) and lasted in the Guinness Book for several years. The dish was assembled and the wedding was held at Sangertown Square in New Hartford, when Keeler was hosting a 6 night a week television show, The Keeler Show, on FOX 33 TV in Utica and FOX 68 in Syracuse.
Utica, NY Police Department's Top Ten Most Wanted
The City of Utica Police Department in Utica, New York has released its Top Ten Most Wanted List for the month of February 2022.
Several of those listed have previously been featured in separate posts about individual crimes, on a previous wanted list, or as the Mohawk Valley Crime Stoppers Wanted Person of the Week.
The reader is reminded that all persons, either suspected of or arrested in connection to, a crime, are innocent unless proven guilty in a court of law.
Anyone with information on the whereabouts of any of the individuals listed is asked to call police or the local Crime Stoppers.
The Utica Police Department's Criminal Investigations Division can be reached at: (315) 223.3510.
Calls, e-mail, and messages may also be left anonymously with Mohawk Valley Crime Stoppers by calling:
1-866-730-8477 (TIPS)
, by visiting
www.mohawkvalleycrimestoppers.com
, or by using the
P3 Tips mobile app
. All information received by Mohawk Valley Crime Stoppers is 100% confidential.
Check Out These 43 Amazing Classic Custom-Made Neon Signs
There are very few authentic neon sign companies left in America. One of the coolest is located in Upstate New York where neon artist and craftsman Howie Cohen repairs, restores and creates some of the most amazing neon signs and clocks in the country. Here are 43 beautiful neons from the Just Neon Sign Company in Utica, NY.