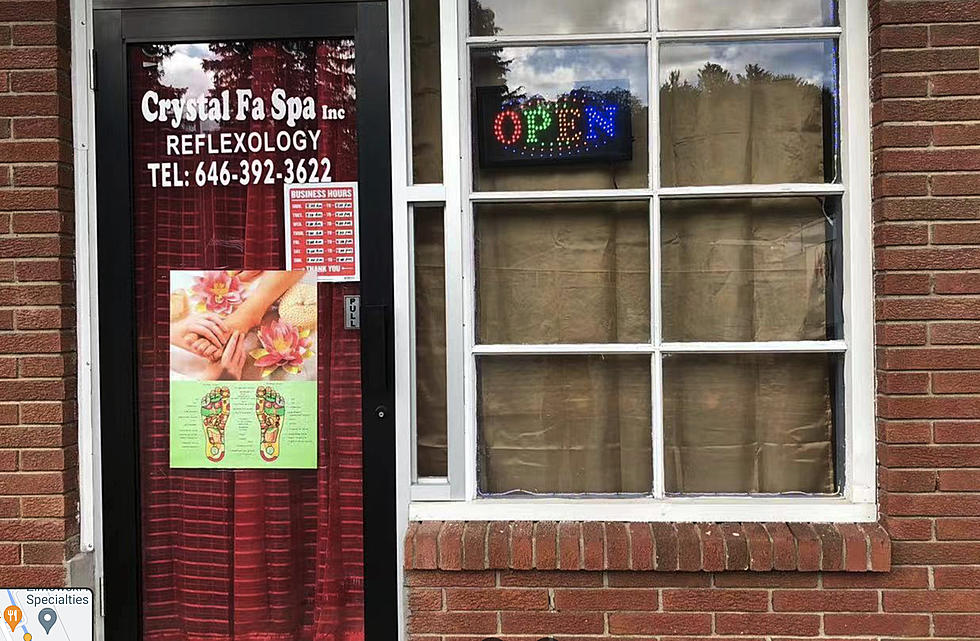 Undercover Police Say They Found a Prostitution Spa in Chadwicks
Street photo of Crystal Fa Spa in Chadwicks, via Google Maps.
Police in New Hartford say they went undercover at a local spa and have arrested two women from Flushing on prostitution charges. According to police, the two were offering prostitution related services at the Crystal Fa Spa, located at 3480 Oneida Street in Chadwicks.
On March 16th, the New Hartford Police conducted an undercover criminal investigation at Crystal Fa Spa, when an undercover police officer was offered prostitution-related services in return for a fee, by employees of the spa.
Police executed a search warrant at the business and arrested 50-year-old Suxin Zhang, from Flushing, New York, and 56-year-old Qun Zhou, also from Flushing. Ms. Zhang and Ms. Zhou each were charged with one count of Unauthorized Practice of a Profession, which is a Class E Felony under the New York State Education Law, police said. It was also learned through the course of the investigation that the employees are not licensed massage therapists, which is required in New York State.
A quick Google search of the business shows photos of the storefront and inside the facility, and a Manhattan telephone number posted to call for information. The Google search also showed related web content that included young Asian females pictured with the same telephone number, that linked to a handful of adult websites that claim to connect customers to escorts and "live sex" services.
Both women were additionally charged with one count of Prostitution, a class B Misdemeanor under the New York State Penal Law, police added.  The NHPD says the investigation is ongoing and additional charges may be filed.
The telephone number and web content seem to be connected to other affiliated spas scattered throughout the country.
61 Amazing Snapshots of Utica's Most Unique Boilermaker Ever
The 2021 Utica Boilermaker Road Race will go down in the history books as one of the most unique, with an all-vaccinated field running the 5K and 15K on October 10th, without elite runners, and with thousands of regular participants sitting this one out because of COVID. The excitement this year was special and exclusive and there was no shortage of it, as seen through the lens of award winning photo-journalist Nancy L. Ford of Utica. Here are 61 awesome photos featuring some of the best moments from this year's race.
9 New Favorites from the New Menu at Utica's 72 Tavern and Grill
The 72 Tavern and Grill, a Utica, NY sports bar and restaurant connected to the Adirondack Bank Center, has now re-opened after an 18-month COVID-19 shutdown. The grand reopening has featured previous favorites from the previous menu, and some new updated menu items. Here are photos taken by photographer Nancy L. Ford of some of our favorites tasted during the restaurant's soft opening.
17 Amazing Vintage Utica, NY Collectables Selling Right Now on Ebay
Check out these very unique and vintage Utica, NY, created collectables that are for sale right now on Ebay. These items could make for unique holiday gift ideas. Prices range from $999 to $38.75 an there are links back to Ebay for each item.