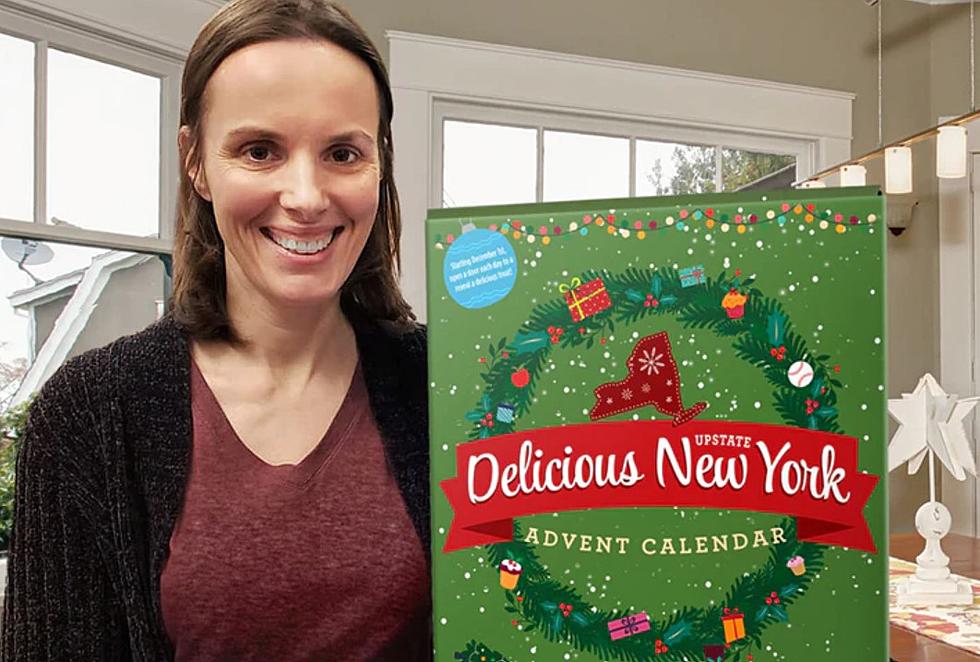 Delicious Upstate New York Advent Calendar Back For 2023
Delicious Food Delivered
If you have loved ones who miss the taste of Central New York and Upstate, you'll want to check out this advent calendar that has all the goods.
Every treat is locally crafted in Upstate New York, and truly gives you the taste of the region. They are created by Delicious Food Delivered and sell out fast, so don't delay. For $159, you can help give the memory of wonderful tastes this holiday season.
The advent calendar features items sourced from small businesses throughout Upstate New York including:
The Sweet Whisk (Buffalo, NY | Biscoff Cookie Truffle)
Mapleland Farms (Salem, NY | Maple Sugar Candy)
Beth's Farm Kitchen (Old Chatham, NY | 2.1 ounce jar of Cherry Apricot Jam)
Sweet Elevation Bakery (Albany, NY | Holiday decorated cookies)
Speach Family Candy (Syracuse, NY | Chocolate Covered Oreos)
Fruits de Vine (Munnsville, NY | 4 oz fig jam)
Ardent Homesteader (Arden, NY | 2oz mini Cara-Sel)
Saratoga Tea & Honey (Saratoga Springs, NY | Genmai Cha Tea Sachet + 3 oz jar Wildflower Honey)
Rockerbox Spice Co (Schoharie, NY | .60 oz jar Chai Spice)
Hudson Valley Chocolates (Wallkill, NY | Six sea salt caramels)
Apothecary Chocolates (Colton, NY | dark chocolate peppermint and a white chocolate orange truffle)
Syracuse Salt Co (Syracuse, NY | Rosemary Flake Salt)
Candy Kraft (Altamont, NY | 4 oz bag candy)
Primo Botanica (Troy, NY | Cardamom Discs)
Sweet On Chocolate (Syracuse, NY | roasted almond/sea salt chocolate bar)
Saratoga Candy Co. (Saratoga Springs, NY | small tin of peppermint pig gummies)
Samuels (Rhinebeck, NY | Assorted Chocolates)
Krause's Chocolates (Saugerties, NY | Milk Chocolate Molded Snowflakes)
Eltee's Goods (Chatham, NY | 2 oz jar tomato jam)
Popinsanity (New Rochelle, NY | Popcorn)
Barkeater Chocolates (North Creek, NY | peppermint disks)
Adirondack Chocolate (Wilmington, NY | molded chocolates and non-pareils)
Platters Chocolate (North Tonawanda, NY | )"
You can learn more and order yours online here.
11 Christmas Towns in New York to Get You in the Holiday Spirit
New York City may be home to the Rockefeller Christmas tree but there are several small towns and villages that will get you in the holiday spirit with all the hustle and bustle of the Big Apple.
Gallery Credit: Credit - Polly McAdams
13 New Balloons & Floats in Macy's Thanksgiving Day Parade
Get a sneak peek of the 13 new balloons and floats featured in the 97th Macy's Thanksgiving Day Parade in New York City.
Gallery Credit: Credit - Polly McAdams
Upstate New York's 15 Snobbiest Cities
We decided to have fun with AI. We decided to ask
ChatGPT
"What are the 15 snobbiest cities in all of Upstate New York, and why would you pick them as your choice?" So before you send off complaints our way, send them to ChatGPT. We didn't create this list, we are only sharing it. So hopefully you'll have a sense of humor, and stick your pinky out.
Gallery Credit: Dave Wheeler