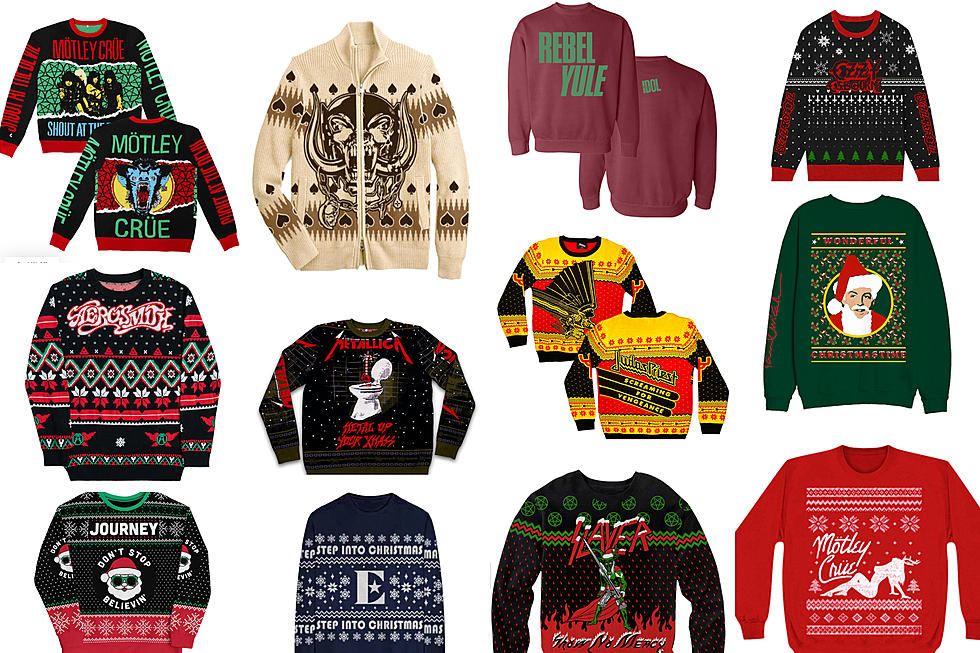 18 Rock and Metal Holiday Sweaters That Will Bring Shame to Your Family
UCR
Can somebody explain how this ugly holiday sweater fad hasn't died yet?
Exactly what is appealing about the idea of paying more money than you would for a normal, actually good looking sweater for an intentionally tacky one that you can wear at most one month out of the year? Call me the Grinch or Ebenezer Scrooge, I guess. Just to be clear, you could go see three Melvins concerts for that same money.
But as the Kinks, the O'Jays and Jalen Rose say, when it's the holidays you got to give the people what they want. So I scoured the rock and metal internet to find the most garish red, green, white and black holiday sweater monstrosities I could - and accidentally found two (Jimi Hendrix and Billy Idol) that aren't quite as embarrassing. If you can't help yourself the purchase links can all be found below.
18 Rock Holiday Sweaters That Will Bring Shame to Your Family
... and a couple that aren't so bad.
Gallery Credit: Matthew Wilkening
Where to Buy Rock and Metal Holiday Sweaters (Even Though You Shouldn't):
Aerosmith Holiday Sweater: Aerosmith.com
Alice Cooper Holiday Sweatshirt: Rockabilia.com
Billy Idol Rebel Yule Sweatshirt: BillyIdolStore.com
Bon Jovi Holiday Sweater Crewneck: BonJovi.com
Dio 2023 Rock the Halls Ugly Christmas Sweater: UglyChristmasSweater.com
Elton John Step Into Christmas Jumper: EltonJohn.com
Grateful Dead Skating Bears Holiday Sweater: Dead.net
Guns N' Roses Big Guns Ugly Christmas Sweater: Rockabilia.com
Bonus! Guns N' Roses Holiday Scarf: GunsNRoses.com
Jimi Hendrix Merry Christmas Photo White Crewneck: AuthenticHendrix.com
Journey Don't Stop Believin' Holiday Sweater: JourneyMusic.com
Judas Priest Screaming for Vengeance Sweater: JudasPriest.com
Metallica Metal Up Your Xmass Holiday Sweater: Metallica.com
Motley Crue Year of the Devil Holiday Sweater: Motley.com
Motley Crue Holiday Sweatshirt: Rockabilia.com
Motorhead Ace of Spades Zip Sweater: iMotorhead.com
Ozzy Osbourne Christmas Sweater: Ozzy.com
Paul McCartney Christmastime Sweatshirt: PaulMcCartney.com
Rob Zombie Throne Pullover Hoodie: RobZombie.com
Scorpions I'm a Xmas Believer Sweatshirt: Scorpions.shop
Slayer Show No Mercy Holiday Sweater: Slayer.net