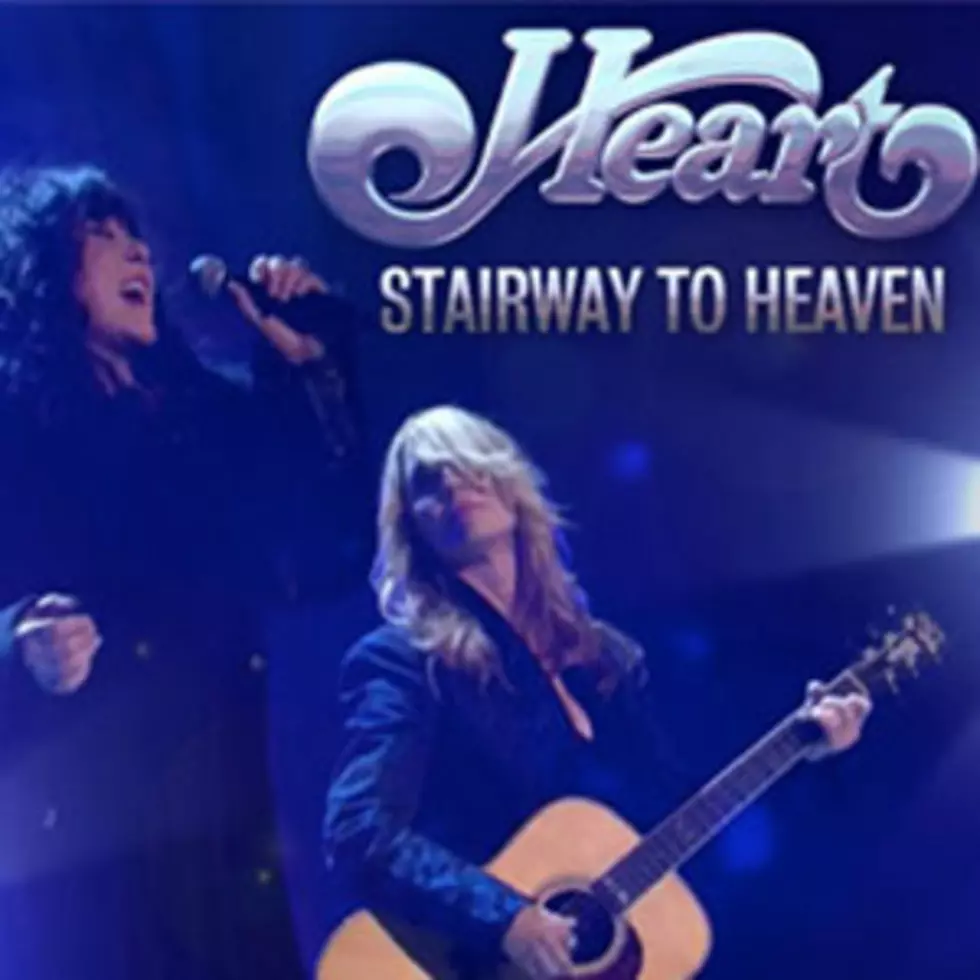 Heart, 'Stairway to Heaven' – Song Review
Live at Kennedy Center Honors
Ann and Nancy Wilson of Heart chose the iconic Led Zeppelin song 'Stairway to Heaven' to play for the legends at the Kennedy Center Honors late last year. The performance stirred up emotions deep within Robert Plant and brought the entire audience to their feet. A well-rehearsed, talented gospel choir covers any flaws in the Hall of Fame nominees' performance.
Now released to iTunes, the song doesn't benefit from the images of Jason Bonham and the choir in boller caps to pay tribute to the late John Bonham. One can't see the dozens of smiling faces dressed in black, or the dark-haired, bespectacled man catching a groove on CBS television. You'd have no idea Plant shed a tear if you just purchased the audio version.
Heart's cover still stands up. Ann Wilson begins the song by humbly staying true to the version Zep originally recorded in 1971. "When she gets there she knows / If the stores are all closed / With a word she can get what she came for," she sings, accenting words in ways one isn't used to. Some won't be willing to grant her any latitude, and by the end when she delivers that most hallowed of rock lyrics line and it comes out "And she's buyjing a stairway to heaven" those people will launch their flaming arrows.
A kinder critic remembers it is a live performance. The famous Jimmy Page guitar solo is perhaps this version's true low point. The guitarist seems capable, but his cloudy recreation fumbles through a middle section while feeling out of sync with Bonham's drums throughout the 52-second blast. He's overshadowed by the choir by the end.
And how 'bout that choir? The string section and the Joyce Garrett Youth Choir freshen up an overplayed song like a splash of Noxzema. Almost missed is Wilson reaching for and hitting all the notes Plant brought down from the heavens 40 years ago. Time has been better to her voice than to the master's it seems.
"And as we wind on down the road / Our shadows taller than our soul / There walks a lady we all know / Who shines white light and wants to show / How everything still turns to gold."
Someone had to tackle this song during the broadcast, and the Wilson sisters embrace it with respect without sacrificing creativity. Heart walks that fine line any artist treads on while covering a great song, and they never trip.
Listen to Heart, 'Stairway to Heaven'