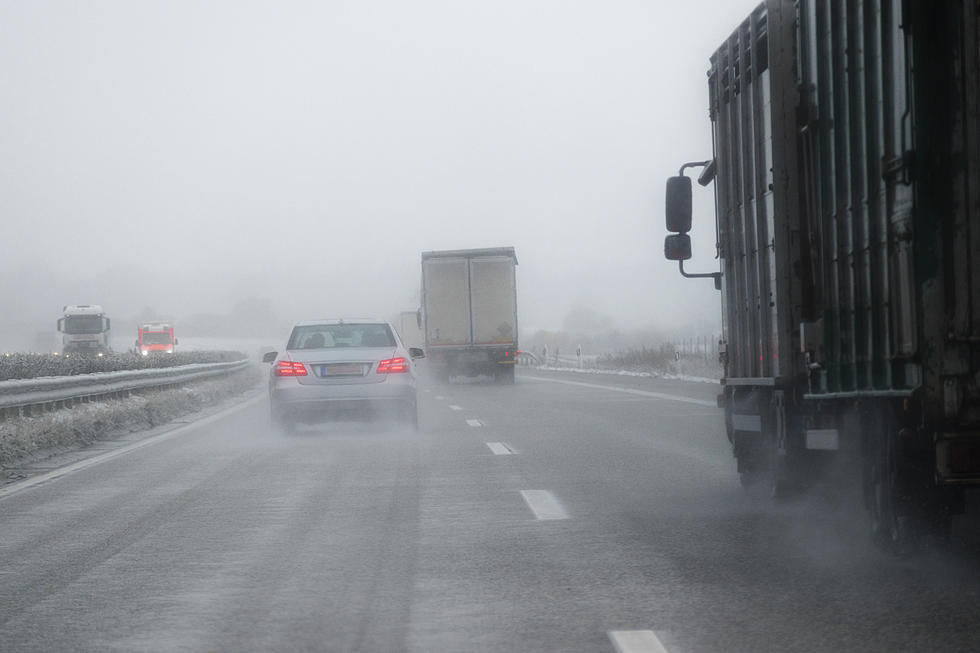 Hazardous Travel in Central New York With Snow and 50 MPH Wind Gusts
Maren Winter/ThinkStock
A Wind Advisory has been issued for CNY. Expect low visibility and white-out conditions with snow showers and dangerous gusty winds. A cold front moving in Wednesday and Thursday could bring accumulating snow.
Strong winds are causing scattered power outages in CNY. A wind advisory continues through 12PM today, 3/29/21. Some gusts over 40 mph currently. Oneida County will see about an inch of snow as temperatures are at or below freezing.
...WIND ADVISORY REMAINS IN EFFECT UNTIL NOON EDT MONDAY...
* WHAT...West winds 20 to 25 mph with gusts of 40 to 50 mph expected.
* WHERE...Oneida, Madison, Chenango, Otsego, Delaware and Sullivan counties.
* WHEN...From 9 PM this evening to noon Monday.
* IMPACTS...Gusty winds could blow around unsecured objects. Tree limbs could be blown down and a few power outages may result.
A frontal system moving through Wednesday night into Thursday may bring a light accumulating snow to the area.
Monday: A chance of snow showers, mainly before 10am. Cloudy through mid-morning, then gradual clearing, with a high near 41. Windy, with a west wind 18 to 26 mph, with gusts as high as 45 mph. Chance of precipitation is 30%. New snow accumulation of less than a half-inch possible.
Monday Night: Clear, with a low around 27. West wind around 5 mph.
Tuesday: Sunny, with a high near 65. South wind 6 to 13 mph.
Tuesday Night: Mostly clear, with a low around 47. South wind 8 to 10 mph.
Wednesday: Showers, mainly after 11am. High near 60. Chance of precipitation is 90%.
Wednesday Night: Rain showers before midnight, then rain and snow showers between midnight and 1am, then snow showers after 1am. Low around 31. Chance of precipitation is 90%.
Thursday: Snow showers. High near 33. Chance of precipitation is 80%.
Thursday Night: Snow showers likely, mainly before 8pm. Mostly cloudy, with a low around 18. Chance of precipitation is 60%.
Friday: A chance of snow showers. Partly sunny, with a high near 31. Chance of precipitation is 30%.
Northern Lights In Old Forge
It's not really common to see northern lights in Central New York, but photographer Kurt Gardner captured the beautiful conformation of them near Old Forge. We're usually too far south of the North Pole, but sometimes we get lucky.
Auroras are caused by the Sun. The Sun is not only hot and bright, but it's also full of energy and small particles that fall toward Earth.
NASA
says the protective magnetic field around Earth shields us from most of the energy and particles, and we don't even notice them.
The amount of energy the Sun sends, depends on the streaming solar wind and solar storms. During one kind of solar storm called a coronal mass ejection, the Sun expels a huge bubble of electrified gas that can travel through space at high speeds.
When a solar storm comes toward us, some of the energy and small particles can travel down the magnetic field lines at the north and south poles into Earth's atmosphere. There, the particles interact with gases in our atmosphere resulting in beautiful displays of light in the sky. Oxygen gives off green and red light. Nitrogen glows blue and purple. [
NASA
]