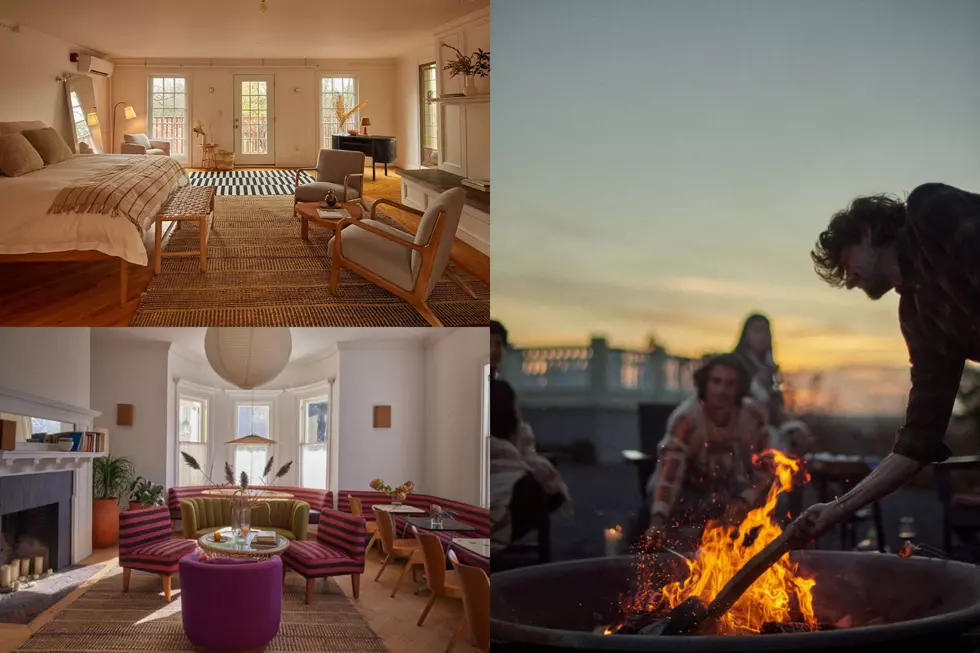 Luxury Hotel Chain Opens First US Escape Miles From Upstate NY
Habitas
Luxury for the soul: that's the goal of an exclusive new hotel now open less than 90 minutes from Albany. The adults-only (21+) retreat is the first US branch of a company that's focused on ultra-high-end glamping in Africa, Mexico, and the Middle East.
While more indoors than its cousins, Habitas-on-Hudson is surrounded by woods, offers no TVs or room service, and focuses on human connection. Habitas Hospitality hopes to entice Upstaters and world travelers alike with activities like Sunday brunch with live music, holotropic breathwork, meditation, and yoga in the beauty of the Lower Hudson Valley.
Exciting and interesting destinations are the brand's forte. Habitas has other locations in Mexico, Saudi Arabia, Morocco, and Namibia, with upcoming branches in Costa Rica and Bhutan. In an interview with the Times Union, Habitas' CEO Oliver Ripley says they chose the Hudson Valley amid foreign locales because they wanted a location that nobody would have expected.
Just a few minutes from Poughkeepsie in Staatsburg, Ripley hopes the location will bring as many visitors from Upstate as it does from NYC to its 1900s manor house. It was originally built in 1761, burned down in 1899, and was rebuilt as its current form in 1901. Since the 1990s it's been known as Belvedere Mansion until Habitas bought the property.
The luxury hotel has an emphasis on literature, with six rooms in the Manor named for a diverse litany of literary icons like the Bronte Sisters, Charles Dickens, Hunter S. Thompson, and Maya Angelou. There are 16 additional rooms and suites in surrounding buildings.
 

 

 

View this post on Instagram

 
For other amenities, Habitas-on-Hudson has a restaurant named Social, serving globally inspired dishes with ingredients grown and produced in Upstate, and a red, brooding bar called The Pub. The Pub serves craft cocktails and New York wines. There will also be a spa opening this year.
Habitas also has a philanthropy arm. For every guest that stays at their properties, Habitas donates $10 to its RISE Fund, which benefits the communities the company builds hotels in as well as conservation efforts in reforestation, coral reef regeneration, and biodiversity.
Habitas-on-Hudson opened on December 1st, and is currently taking reservations for 2023. Prices run from around $400-900 per night depending on room and package. You can see more on Habitas' website.
These Upstate New York Restaurants Are An Absolute Must Try For 2023
315 Menus
is a group on Facebook focused on all of our amazing restaurants locally. You can post questions, reviews, photos, and if you're a restaurant you can post menu items, specials, and more. Recently someone posted the following question:
What local restaurant have you never been to that's on your "must go to" list for 2023?"
We decided to pick the top answers and present them to you. If there are others that should be on the list, text us on our station app:
10 Capital Region Restaurants Opening In 2023 You Need To Check Out
Are you a foodie? Love to eat out? 2023 is shaping up to be a big year for new restaurant openings throughout the Capital Region. From chain restaurants to new local eateries to local eateries adding new locations to a local reality TV star taking over a dormant restaurant, there will be flavors new and old for Capital Region residents to enjoy in the months ahead. Here are 10 that already opened in the first days of 2023 or will be serving up tasty dishes in the near future.