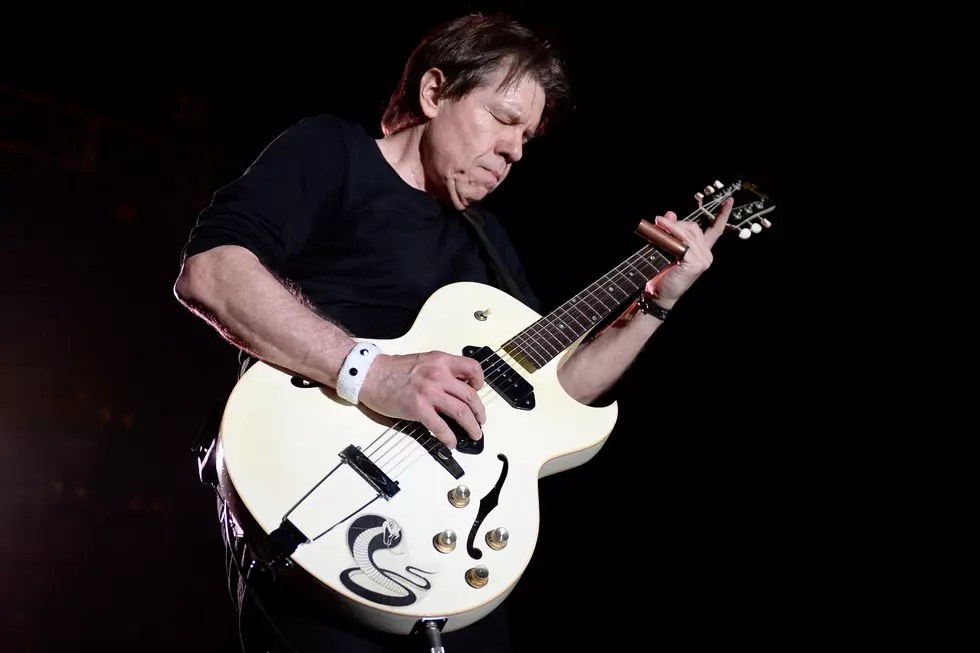 George Thorogood Remembers Playing 50 States in 50 Days: Exclusive Interview
Matt Cowan, Getty Images
When George Thorogood launched his ambitious 50/50 tour on Oct. 23, 1981, in Honolulu, he took on what would be a Herculean task for almost any performer: aiming to play concerts in 50 states in 50 days.
Flying by plane to Hawaii and Alaska, the rest of the journey found Thorogood and his band traveling between 200 to 500 miles a day in a converted Checker Taxi that had been accessorized with sleeping space.
"We're playing some places that maybe have never seen a live band," Thorogood told Ottawa Citizen that year. They had small club dates slotted in places like Mandan, N.D., and Moorhead, Minn. He planned to bring his show to the Wyoming State Prison. But as the 50 States in 50 Dates blog notes, the tour schedule ran up against issues in some of the markets and, occasionally, venue problems that caused a number of the planned performances to be moved.
In the end, they pulled it off -- playing 51 shows in 50 days in all 50 of the states. As Thorogood tells UCR, it was a lot to tackle under the best of circumstances. But he started the trek, which came after more than a week of shows supporting the Rolling Stones, under the weather.
"I had a really bad cold," he recalls. "I caught a real bad head cold, and after we played those shows with the Stones, Bill Graham wanted us to play a whole bunch more. But the 50/50 tour was already booked. So I missed out on some big gigs -- Madison Square Garden, among other places -- with the Stones. Even one of the dates we did on the 50/50 tour was with the Rolling Stones, in New Orleans.
"But I was sick as a dog, I had a temperature of about 110. And I was in front of 80,000 people, and I had to go on after the Neville Brothers and before the Rolling Stones. That was tough."
It's just one chapter in what has been an incredible career for Thorogood, one that now stretches four and a half decades. The guitarist isn't spending a lot of time looking in the rear-view mirror; he's on the road, playing shows this summer under the banner of Good to Be Bad: 45 Years of Rock. Even though he'll turn a nostalgic eye to his past with an upcoming box set that's due next year (coinciding with the 50th anniversary of his longtime label, Rounder Records), that's about as far as he'll go.
"I'm from the Satchel Paige school of life," he chuckles. "I don't look back."
He says the box set will focus on his well-known songs and probably a few surprises. "It's in the making," he says. "We've got a few tunes that may have never been released before."
Thorogood began his career performing acoustically -- a period he would eventually revisit with his Party of One solo release in 2017. He allows that he "wasn't much of a solo act to speak of," while noting that the eventual idea of playing with a band was always there in his mind.
"I was heading that direction anyway, I kept putting pickups in my acoustic guitar so it would be louder," he says. "Then I had a friend who came and played and sat in with me, playing rhythm guitar behind me. So I said, 'Well, we might as well have a band. All we need is a drummer. We're going in that direction anyway.'"
Initially, he put together a trio with a bassist and a drummer, but Thorogood hesitates to call them a power trio. "I don't know how powerful we were," he laughs. "We definitely were a trio, but as soon as people get a trio together, they think it's a power trio. Were the Three Stooges a power trio?"
Drummer Jeff Simon is a childhood friend who's been with Thorogood since those early days. Even though he wasn't Thorogood's first call, when the guitarist found himself without a drummer, he knew instantly whom to contact.
"We'd been playing around, jamming together, since we were kids, anyway," he explains. "He hadn't played any drums professionally. He'd been fooling around with them, not as a hobby, but he just had a drum set in his basement, and I'd wander over there and pick up his brother's electric guitar and we'd just wail away for a couple of hours.
"Then I wouldn't see him for a couple of months and I'd drop by again. Lo and behold, we were playing at a party and we said, 'We need a drummer,' because the drummer didn't show up. I said, 'I know a guy who plays drums.' So I called Jeff and he really had it from the beginning. He knew how to play with me. He knew the music too. He listened to a lot of blues and he had seen everybody play: Jimi Hendrix, the Allman Brothers, Johnny Winter, John Hammond. So he was well-educated in what I was doing. He just needed more experience."
Bassist Billy Blough is the other piece of the puzzle that completes the original core lineup of the Delaware Destroyers. With the band lineup solidified, Thorogood went to work.
"We took every gig that we could get, but there wasn't very many that were suited for what we did," he recalls. "We were like a poor man's version of Hound Dog Taylor or something like that. You know, frat parties -- they wanted people who played Top 40. Most clubs did, but the only way you could break into that circuit, doing what we were doing, was to make records. But in the meantime, we found a couple of gigs where we could just go in and blow the blues out. Some places, we had to educate them when we went there. I got tired of that and I wanted to have a record out. I wanted to do what John Hammond did, Johnny Winter and the Allman Brothers, all of those cats. I wasn't unique in that fashion, we just had to keep plugging away until we got that record."
Thorogood's 1977 self-titled debut featured tracks like "Madison Blues," by Elmore James, and Robert Johnson's "Kind Hearted Woman," as well as a sprawling take on John Lee Hooker's "One Bourbon, One Scotch, One Beer" that stretched close to nine minutes. The track has become a radio classic and a set-list staple. In the same way that Thorogood felt he had to "educate" in his early club days in regards to the material they were playing, he sees their choice of songs that they were recording as similarly educational.
"They'd say, you do covers,'" he remembers. "I go, 'I don't do covers. I play obscure material.' And that's what we do. We turn people onto material that exists, but no one knows it."
While his commitment to the blues has never wavered, one thing has changed about Thorogood: his choice of guitar. The longtime Gibson 125 he's used has been replaced by a new signature model from Epiphone.
"It pretty much just duplicated the Gibson 125 that I've been playing since 1973," he explains. "I have several of them, but I beat 'em up so bad that they were just not usable anymore. They just kept repairing them and repairing them until they were unrepairable, and it was costing us a fortune. They stopped making that guitar in 1970, so I was forced to make a move. People that work in our organization stepped up and, 'Well, this organization, Epiphone ... .' I said, 'I don't play Epiphone, I play a Gibson.' They said, 'Well, they're going to design a guitar that's just like your 125.' And they've come pretty close to it."
It's so close that when Thorogood's crew handed him one of the Epiphones without telling him, he played it without realizing he had switched over.
"It took a while to get it" to where it needed to be," he says. "Finally, they were slipping me the guitar without me even knowing I was using the Epiphone. I still thought I was playing the Gibson. I didn't check it out when I walked onstage. A few days later, I said, "Listen, I don't know if I can play these Epiphones. They said, "You already have." I said, "I have?" They said, "Yeah, two nights ago, you played with them." I didn't even know."
Masterpieces: The Very Best Albums From More Than 100 Classic Rock Acts