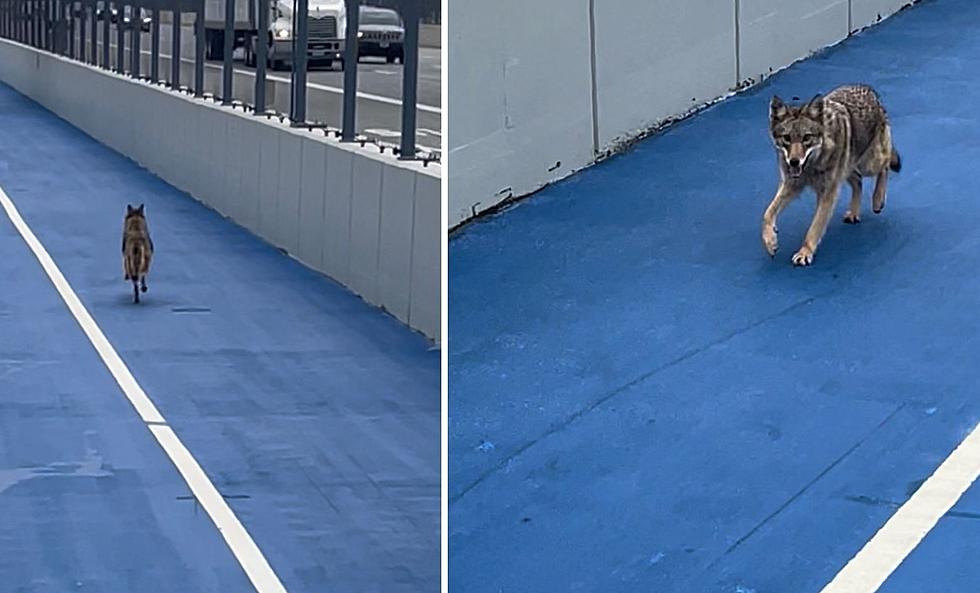 Coyote Runs Along The Bridge Path in Tarrytown, NY
Michele Zandona
This sounds like the opening of a corny joke, but we have to ask why did the coyote cross the Gov. Mario Cuomo Bridge (Tappan Zee)? No, seriously...why?
We may never know why, but what we do know is that this actually happened.
Here in the Hudson Valley, we're used to animal sightings, especially now that we're in spring mode across the mid-Hudson region. Deer, raccoons, skunks, snakes, turtles, bears, and of course coyotes. While we're used to seeing these critters out and about, we're not used to seeing them hit the running track on an extremely busy lower Hudson Valley bridge.
Last week, Michele Zandona went for a run along the 3.6 mile Bridge Path along the Governor Mario M. Cuomo Bridge when a 4-legged friend joined her unexpectedly. Zandona shared photos and videos with us of a coyote running up behind her and joining other runners as they ran from Tarrytown to Nyack.
Thankfully, no one was bit or injured.
The Bridge Path is one of the longest shared use paths in the country and connects Westchester to Rockland County.
Many who see coyotes out during the day may believe it's a strange sighting, however, the New York State Department of Environmental Conservation explains that the Eastern Coyote isn't strictly nocturnal. The DEC writes:
They may be observed moving about during the day, yet are more active after sunset and at night. Seeing a coyote during the day does not necessarily mean it is sick or unhealthy, but caution should be exercised.
What Do You Do if You Encounter a Coyote in The Wild?
With that being said, if you do encounter a coyote in the wild here are a few tips from the DEC on how to avoid Human-Coyote conflicts:
Do not let a coyote approach anyone.
If you see a coyote, be aggressive in your behavior-stand tall, and hold your arms out to look large. If a coyote lingers for too long, then make loud noises, wave your arms, or throw sticks and stones.
Contact your local police department and DEC regional office for assistance if you notice that coyotes are exhibiting "bold" behaviors and have little or no fear of people.
Teach children to appreciate coyotes from a distance. Children are at the greatest risk of being injured by coyotes. If a coyote has been observed repeatedly near an area where children frequent, be watchful.
Stunning Photos Capture Toy Thief Coyote Playing Just Like a Dog
Stunning Photos Capture Toy Thief Coyote Playing Just Like a Dog
New York DEC New Rules For Deer and Bear Hunting
As you prepare for the fall deer and bear hunting season, you need to be aware of these new rules just adopted by the New York Department of Environmental Conservation.
5 Things You Didn't Know About Mid-Hudson Bridge
You drive across it often, but what do you know about the Mid-Hudson Bridge? Test your knowledge.