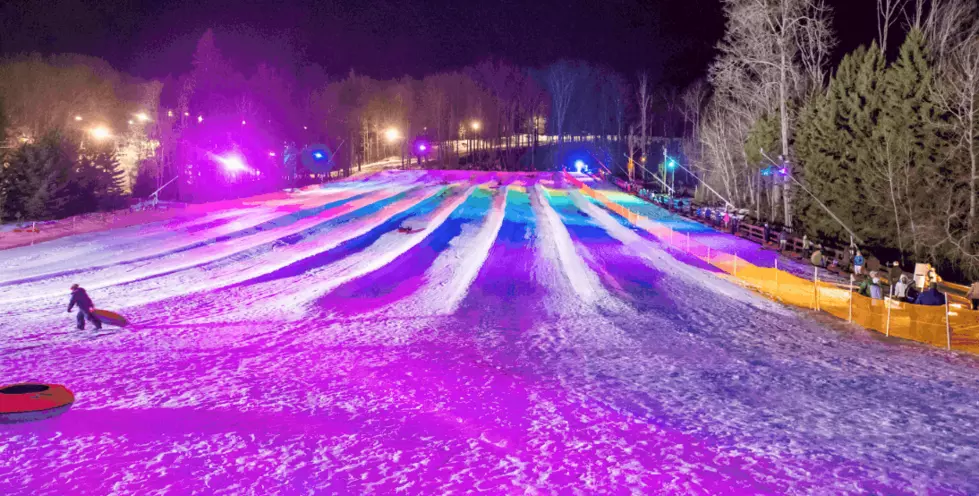 COVID Can't Stop Night Tubing With Colored Lights and Music This Winter
Photo Credit - Peek n Peak Resort
UPDATE: 4 new snow tubing lanes have been added at Peek n Peak, bringing the total to 14. New COVID-19 safety precautions and requirements have also been released for the resort in western New York.
Original Story written October 9, 2020
The coronavirus pandemic isn't going to stop Lunar Lights Tubing, a winter experience of colors and music in western New York.
Governor Andrew Cuomo announced ski resorts could reopen with 50 percent indoor capacity and strict health and safety protocols under state-issued guidance starting.
This winter, make plans to slide down the hill as thousands of LED lights, pulse, fade and change to music at the Peek n Peak Resort this winter. On select nights, there's even a live DJ.
You won't even have to wear yourself out walking back up the hill. There's a Magic Carpet Lift that will bring you and your tube back to the top.
Whether taking part in the Lunar Lights Tubing, snowboarding or skiing, all guests at Peek n Peak Resort will be required to practice social distancing and wear a face mask while in line and riding the ski lift or magic carpet lift to the top of the hill. "There will be a limited capacity on our restaurants and indoor facilities and we will strongly encourage guests to buy their snow tubing or lift tickets in advance on our website," said Corporate Marketing Manager George Kilbert.
Masks required at all times, except when eating/drinking or skiing.
Social distancing between parties required at all times.
Gondolas/lifts restricted to members of the same party.
Ski lessons limited to no more than 10 people.
Thorough cleaning and disinfection of shared/rented equipment.
Outdoor capacity on mountain reduced by 25% during "peak" days or if multiple trails are closed due to unseasonable conditions.
There are no plans to eliminate any winter activities this season, but there are plans to expand. "We're looking at some of the resort services, offering new options for dining like a grab & go option for family dinners."
Lunar Lights Snow Tubing starts at 4pm Mondays, Thursdays and Fridays. Saturdays, Sundays and holidays.
Enter your number to get our free mobile app
---
CHECK IT OUT: 10 Items Might Be in Short Supply This Winter