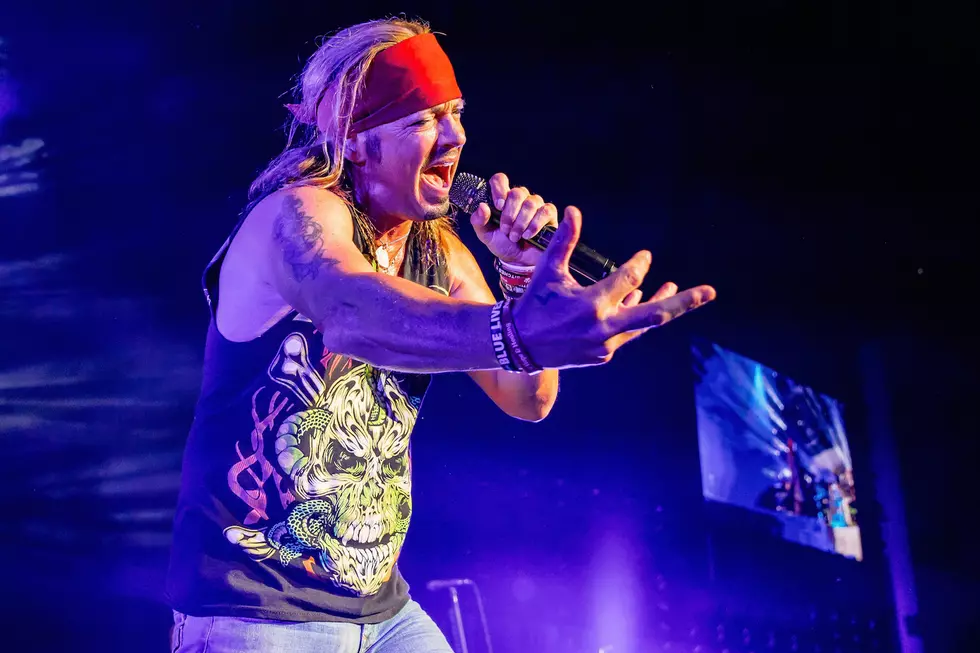 Bret Michaels' Spirits Are High as Poison's 'Good Time' Tour Winds Down
Scott Legato, Getty Images
I've been listening to Poison for my entire life. Since birth, my mom fed me a diet of '80s glam and hard rock, which shaped my taste for heavy music (meanwhile, my fandom of New York sports is attributed to my dad's radio habits). As a child, I fixated on music, even sliding Poison tapes into the VCR at just over two years old. My first impressions of wildly successful adults were formed from the stage theatrics, high hair and colorful Spandex pants of Poison and their peers.
When Poison announced a co-headlining trek with Cheap Trick, it was another opportunity for Mom and I. Pop Evil, who she recently became an avid fan of, was the opening act.
The Thursday night concert in Hartford, Connecticut earlier on the tour was indeed nothing but a good time; the fans seemed to have no regard for the coming workday, tailgaiting in the parking lot hours before doors opened. From the moment you put the car in park, the party stars. Bret Michaels told us that's exactly how he wants it. We spoke to him about the current tour and why the summer is the perfect time for Poison to hit the road.
There's a real family vibe to this tour. I saw Pop Evil jam with Cheap Trick at the end of the set then [frontman] Leigh Kakaty came out during your encore covering KISS' "Rock and Roll All Nite."
One of the things that matters to me, when you're out on the road, I want to make sure people are having a good time. I always invite Leigh to come up onstage and the Cheap Trick guys come up when they can. We're all out here together - anything goes bad, your equipment goes down, let us know. We're all sharing the stage, let's make it awesome; not just for the fans but for the bands.
Poison don't tour as often as a lot of us would like. Is it a matter of getting the right package with these feel-good bands together?
It's a couple [of] things. We went hard and heavy from our first record all the way up to 1993. Then I was doing movies with Charlie Sheen, I did some solo stuff and then Poison came back in around '99 and ran all the way up until about 2012 and stepped down for a few years.
All of us have different things outside of Poison. Sometimes people just want a break. I said it was easy for me, I just give up sleep. Whether its active rock, pop, country, hip-hop — I love music, it's therapeutic to me. I'll watch Pop Evil's soundcheck and I'll say "I want to hear 'Boss's Daughter'." They'll start playing, I'm riding my mountain bike around — it makes me want to jump over more things.
We think about what songs we play [over the PA speakers] before people start coming in. We want people to hear good, fun party music from all genres of rock. That show should be a good time from the minute you walk in.
That's what I love about this tour. It's outside, there's tailgating before the show. Some bands say it doesn't matter, whether they play a club or Rock in Rio, but for Poison, outdoor shows really seem to be essential to the experience.
The parking lot party! It's one of the most important things. Even if you come to a show on a Tuesday and it's slightly rainy, there's tons of people in the parking lot talking, barbecuing and having a good time. That outdoor summer feel in early summer or late spring… I grew up in Pittsburgh and Harrisburg and when spring comes along and you're ready to get out, the tailgate is number one.
Right after this tour wraps up, you've got a ton of solo shows coming up and your last song was "Jorja Bleu," which was written for your daughter. Now that they're older, do your kids come on the road with you more?
The amount of time you spend away from your kids — you try not to miss any special events, but it happens. I'm on the phone 24/7 with my kids talking to them about the ups and down of life, schoolwork, bullying, the great times… A song is one of the great things I can give to them. They realize I unconditionally love them and even though we're apart, we've had talks about it. Even if they come on the road, there's still things you miss.
Thanks to Bret Michaels for the interview. See the list of remaining stops on Poison's tour below and for more information, head to their website. The singer has a solo tour lined up through July and into August and those dates can be seen here.
Remaining Poison 2018 Tour Dates
June 28 — Nashville, Tenn. @ Ascend Amphitheatre *
June 29 — St. Petersburg, Fla. @ Al Lang Stadium #
June 30 — Jacksonville, Fla. @ Daily's Place * #
July 01 — Hollywood, Fla. @ Hard Rock Event Center *
* with Cheap Trick
# with Pop Evil