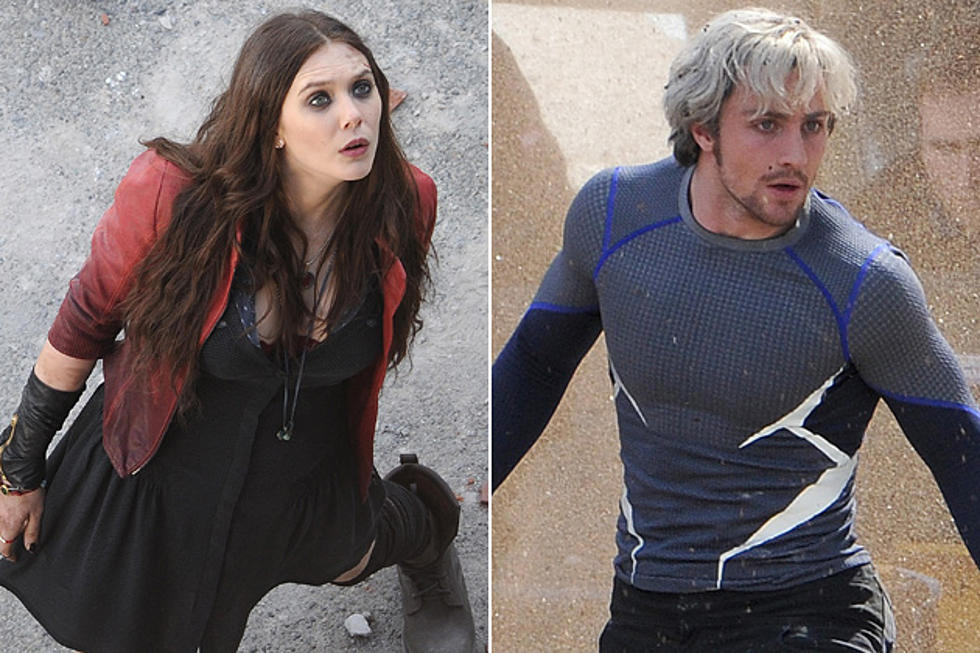 Photos From Avengers 2 Set Reveal New Characters
Getty Images
New photos from the 'Avengers: Age of Ultron' set have surfaced featuring Scarlet Witch and Quicksilver. Hawkeye's in there too, but he looks the same, so whatever.
It's hard to gauge whether the sibling duo of Scarlet Witch and Quicksilver's new costumes from 'The Avengers' sequel are cool or not. Scarlet Witch, played by 'Oldboy' star Elizabeth Olsen, is wearing what looks like her comic-book outfit, but if that outfit were made of street clothes.
There are some shots of her looking intense (and perhaps magical). We've got our fingers crossed for some nice hex effects, but it's too soon to tell if we'll get them. Either way, we trust in the almighty Joss Whedon to make something excellent. He's never let us down ... er, well, not too many times.
Quicksilver's costume is pretty par for the course with a Whedon-directed superhero flick. 'Kick-Ass' and future 'Godzilla' star Aaron Taylor-Johnson is the white-haired super-sprinter. He looks like that guy you see occasionally in the coffee shop listening to house music through big headphones at a dangerous volume.
Taken without any context, Quicksilver's poses in these photos look, well, silly. They mostly reinforce the impression that he's a rave kid. But there is one badass photo of him caught mid-sprint. Overall the photos are a good tease. But we want moar!
'Avengers: Age of Ultron' is scheduled to come out May 1, 2015, when it will probably make enough money to fund education to a couple of third-world countries.