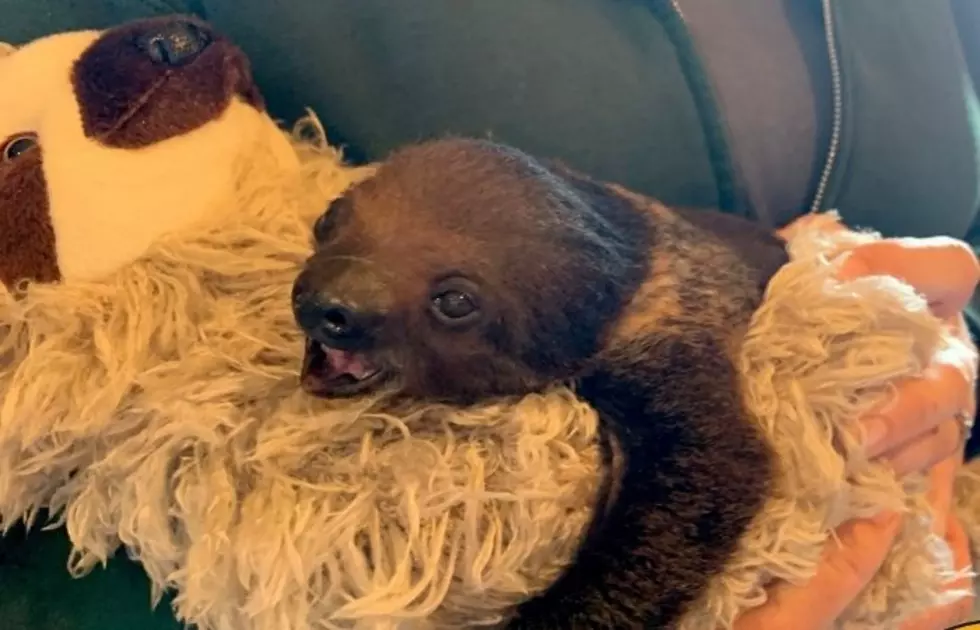 Adorable Baby Sloth At Animal Adventure Park Is Being Hand Raised
Animal Adventure Park
A baby two-toed sloth is being hand-raised at Animal Adventure Park in Harpursville and will be a part of the sloth encounter.
The Animal Adventure Park in Harpusville boasts 300 animals, representing 100 species. They're gearing up for its 9th season opener on Wednesday, April 28, with many new upgrades and additions to the zoo.
Jordan Patch, the owner of Animal Adventure Park, announces a new baby sloth has been named "Puppy" by his daughter. The two-toed sloth is being hand-raised by Jordan and will be a part of the sloth encounter at the park.
Kerry Gallagher from Animal Adventure tells us Puppy the sloth is 100 percent weaned before he transitioned to the park.
We are hand rearing him as an ambassador animal to be a part of our educational programs and Animal Encounters; connecting guests with animals in interactive and educational ways, driving home an appreciation for the species and the message of conservation and preservation
On April 2, 2021, the park broke the news that our beloved April the Giraffe died by euthanasia due to debilitating arthritis, she was 20 years old. Since then, Desmond the Giraff has made his way from the Milwaukee County Zoo to join the herd as a companion giraffe to lifelong resident and soon to be four-year-old Tajiri the Giraffe.
New for the giraffes this year, you can purchase acacia on the decks to hand feed them. Acacia is their preferred browse in the wild. Giraffes can eat as much as 64 pounds of acacia leaves and twigs daily. Herds of three or more giraffes spend hours browsing in acacia thickets, greedily gobbling up as much of the delicious foliage as they can.
Opening Day at Animal Adventure is April 28, 2021. They're an interactive educational animal park nestled in the hills of Harpursville, NY, just 15 minutes outside of Binghamton. They're well known for offering a unique experience of hand-feeding 100s of animals, coming neck and neck with giraffes, and spotting an emerging kangaroo or wallaby joey.
LOOK: Exotic Animals You Can Own In New York
Looking for an exotic pet to own legally in New York State? Here is a list of some animals that you can have aside from regular dogs, cats, and farm animals.
LOOK: 30 fascinating facts about sleep in the animal kingdom