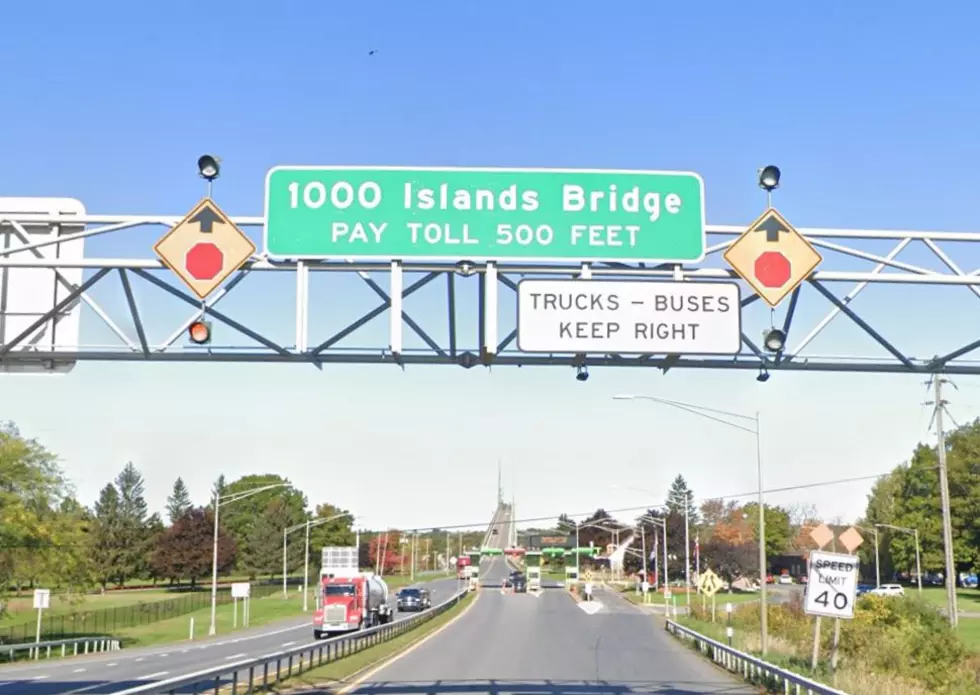 The U.S.-Canadian Border In New York Won't Open To Non-Essential Travel Until At Least June 21
Google Maps via Google Earth
The U.S. Canadian border here in New York State will remain closed until at least June 21 to non-essential traffic.
According to New York Upstate, Canadian Prime Minister Justin Trudeau confirmed the extension on the border's closure. The closure agreement, which has been extended countless times over the last year, was due to expire on Friday May 21. Non-essential traffic restrictions have been in place between the two countries since March 21, 2020 due to the Covid-19 pandemic.
Trudeau indicated that lifting social restrictions will be dependent on vaccination rates and consistently low community transmission of the COVID-19 virus.
"We're all eager to get back to normal, but we know that before we get back to normal cases need to be under control and over 75 % of people need to be vaccinated for us to start loosening things in Canada. We'll see what framework we apply to ensure that we're keeping Canadians safe," according to CTV News.
Currently at the time of this publishing, Canada has vaccinated 46.05 % of its population with a first dose and just 3.77 % have received two doses. Meanwhile, the U.S. has vaccinated 47.19 % of its total population with a first dose, and 37.03 % have received both shots. As far as U.S.'s adult population, 60 % have had at least one vaccination, according to U.S. Center for Disease Control.
"Boaters, including tour boat companies that cross the border without docking, do not increase the spread of COVID-19 and should not be unduly penalized by the border policy,""
Canadian officials are considering a two-track system for vaccinated and unvaccinated travelers. This could possibly include quarantine for the those who have not yet been vaccinated.
5 Things TSA Wants You To Prepare For During COVID-19 Travel
Take A Look Inside The Abandoned ShoppingTown Mall In Dewitt, NY
Onondaga County currently owns the ShoppingTown Mall located in Dewitt New York near the Syracuse area. As of today, the mall is abandoned. The future of the building will go to someone who has the best vision for it. Onondaga County
has issued an official request for proposals (RFP)
for ShoppingTown Mall. The property will be resold to the buyer with the best plan for revitalizing the vacant property.
Proposers will need to have a demonstrated history of producing "high quality projects," according to the statement. They will also need to produce financial information related to the project."
Jordan Harmon was able to tour the property and take plenty of photos recently with permission from Onondaga County:
The main purpose of this shoot was to document this historical structure before any alterations occur. I grew up with this mall, I can remember coming here as a kid. This was the place my family did our back to school shopping and the place where I'd blow my allowance at Fun Junction playing laser tag. To see it now is shocking to say the least. The former owner of the mall clearly made no effort to maintain it, let alone stop the hundreds of leaks in the roof.