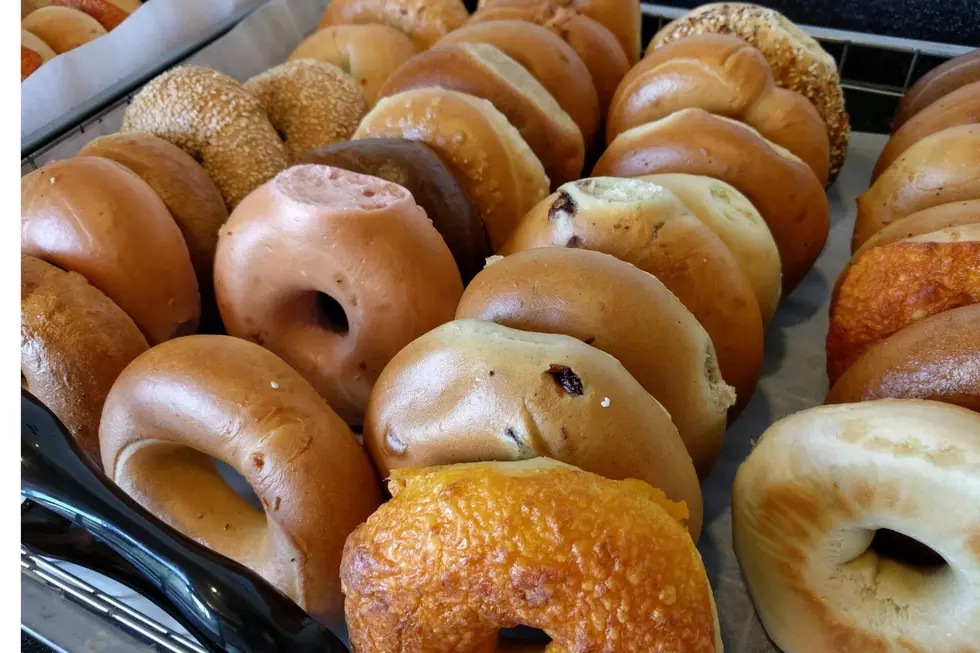 Bagel with a Schmuck: Utica Man Arrested Burglarizing Utica Bagel Grove
Canva
A popular breakfast spot in Utica suffered some damage after a burglar was found inside the establishment, overnight this weekend.
Police were called to the Bagel Grove on Burrstone Road in Utica shortly before 2:00 a.m. Sunday morning for an intruder in the establishment. As officers responded they were told the burglar could be seen on security cameras still walking around inside the store. Police say he broke several windows and doors to gain entry to the bagel business and apparently didn't know he was being watched by the surveillance system inside.
When officers arrived, they say 30-year-old Ronald Ward was still inside and tried to hide behind equipment. Ward was soon located and physically removed from the premises, police said. While being removed, officers say the suspect spit on them several times.
Booking photo of Ronald Ward, provided by Utica Police:
Ward's charges include Burglary in the third degree, Criminal Mischief in the fourth degree and Harassment in the second degree.
No word on the costs faced by the owners of Bagel Grove, who will need to replace the doors and windows smashed during the incident.
[AUTHOR'S NOTE: This post is for informational purposes. The information provided within was provided publicly by law enforcement. Any charges or accusations of wrongdoing mentioned in the article are only allegations and the reader is reminded that all persons are innocent until proven guilty in a court of law.]
15 Of The Best Soups In The Utica And Rome Area
Let's be honest, there are few better ways to warm-up after coming in from a chilly walk on the 840 trail than with a bowl of steaming hot soup and we're sure that you've got your favorite recipes. But, who has all the time in the world to make soup?
Who can you turn to to satisfy that soup craving? We asked all around social media and these are the places you said you turn to first. Not only did you name a restaurant, you named the soup. When we gathered responses, we only posted ones that had specific soups to try, and the restaurant. If we should add anyone else, text us on our station app and we will be happy to add them to the list. Be sure to tell us what soup they serve to include.
From A to Z: Delicious Food Trucks Worth The Visit in Central New York
Pizza, ice cream, barbeque, hot dogs, sandwiches and more, there's something for everyone. That's what is so great about the food truck rallies we get to enjoy regularly. The best part? They are all locally owned and operated.
From A to Z: here's just a few that were suggested.
15 Utica and Rome Area Restaurants To Find Mac N Cheese At
These Utica and Rome Restaurants From Your Childhood Need To Make A Delicious Come Back
We asked this simple question on social media and got a lot of responses. These are just the top ones, obviously we could always add to this list. You can chat with us on our station app to add to the list as well.