Valentine's Day Gone Wrong: Oscar Pistorius, The 'Blade Runner' Charged With The Murder Of His Girlfriend, Reeva Steenkamp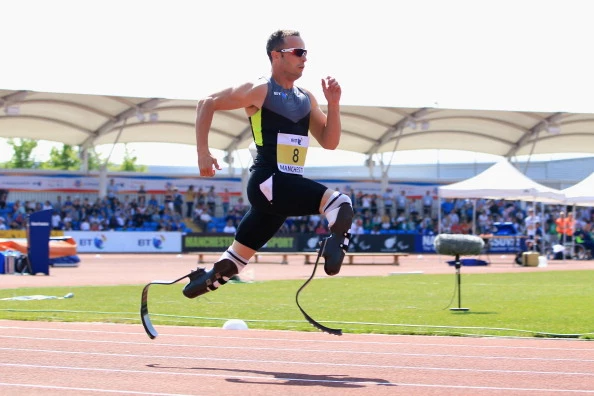 Heck of a Valentine's Day present to be formally charged with your girlfriend's murder on the one day when couples are celebrating their love. Decorated Paralypian, Oscar Pistorius or the Blade Runner as he's known given that he races with 'blades' for legs because he was a double amputee before he was a year old, apparently gunned down his model/lawyer girlfriend, Reeva Steenkamp yesterday.
They're both beautiful and appeared to be the epitome of what it meant to be in love, but something went horribly wrong and now both of their lives are shattered, one of which is gone forever. The crime rate is extremely high in South Africa where he lives and Pistorius reportedly claims that he mistook her for an intruder and shot her 4 times in the head and arm. Some believe his girlfriend was trying to surprise him on Valentine's Day. Her Twitter account spoke of her excitement over the holiday which makes that speculation a probability. Gosh I hope so, either way though this story is tragic and I hope for his sake and Reeva's family that this is indeed the case. Get a load of her Twitter status from yesterday… Heart-wrenching.