Toast With A Toasted Lager At 'Utica On Tap'
Here's another benefit of our upcoming 'Utica On Tap' craft beer fest at the Stanley Theater on March 22nd. If you're 21 or over with valid ID, you'll get to discover many new brews that you've never tasted before, like the beers from Blue Point Brewing Company of New York.
Blue Point Brewing is bringing two beers to sample on March 22nd: Bluepoint Toasted Lager (their flagship beer) and Bluepoint Blueberry Ale.
Here's more about the brewery according to bluepointbrewing.com:
"The Blue Point Brewing Company is Long Island's first currently-operating microbrewery. It was founded in 1998 by two long-time friends, Mark Burford and Pete Cotter.

Storage tanks, fermentation vessels, and other brewing equipment were also gathered from other breweries like Frederick, LaJolla, Red Hook, Pilgrim and others.

The brewery's unique direct-fire brew kettle, dismantled brick by brick from a brewery in Maryland and rebuilt in Patchogue, imparts a lightly toasted, complex taste to produce a line of ultra premium microbrews.

Located in the 1970's Penguin Ice Factory on River Avenue in Patchogue, Blue Point Brewing Company's 5000 square foot facility gives them ample space for brewing 10,000 kegs of beer a year."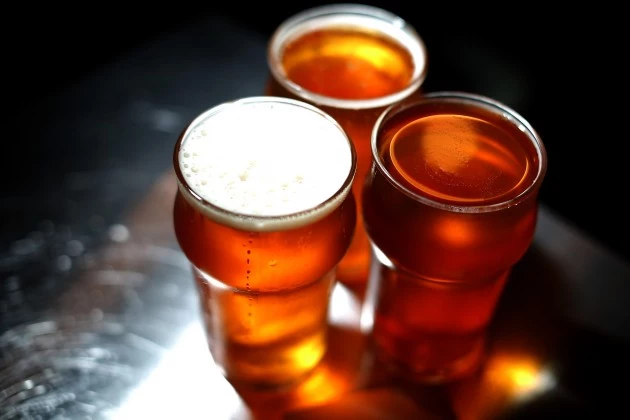 Now that you know who they are, let's take a look at the two brews you'll be sampling.
Here are the beer descriptions, according to bluepointbrewing.com:
""Toasted Lager"

Our Award-Winning Flagship Brew!

Copper in color, our most popular and unique brew is made from six different malts, including English Pale, Crystal, Munich, Carapils, Wheat, and Belgian Caravienna. Toasted Lager's balanced flavor of malt and hops makes for easy drinking and the special lager yeast we use produces an exceptional, long-lasting smooth finish.

Availability: Year-Round

Technical Description:

1.054 OG (Original Gravity)

28 IBU's

5.5% ABV

"Blueberry Ale"

First brewed in 1998, this delicious golden ale quickly became a year-round favorite. Our fresh Blueberry Ale offers an unusual twist on brewing that turns out to be a wonderful blend of fresh blueberries matched with a distinctive, thirst quenching ale. We carefully add 732 pounds of fresh, plump and juicy, handpicked, USA Northern Highbush Blueberries to every batch.

Availability: Year-Round

Technical Description:

1.040 OG (Original Gravity)

14 IBU (International Bitterness Unit)

4.6% ABV (Alcohol By Volume)"