Syracuse Orange Win
Syracuse is back in the win column but down in the polls.  The Orange beat Cincinnati 60-53, as Kris Joseph scored 17 and Scoop Jardine added 13.  As they rebound from the Notre Dame loss, Syracuse.com's Mike Waters says the team watched that game on the team flight from South Bend to Cincinnati.
"The whole trip to Cincinnati, we watched the film,'' Syracuse senior Scoop Jardine said. "That was worse than playing the game because we really got to see how poorly we played.''
Syracuse improves to 8 and 1 in the Big East and 20-1 overall, but slipped in the latest polls.  The USA Today-ESPN Coaches Poll has the Orange at number 4.  Kentucky is at the top, followed by Missouri, Ohio State, Syracuse and Kansas.  The AP Poll has Syracuse at number 3 behind Kansas and Missouri, with Ohio State and Kansas at 4 and 5.  'Cuse is off until Saturday.  They'll host West Virginia at 1.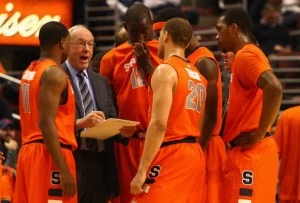 Chris Chambers/Getty Images