Ringo Starr Shares Stage With Make-A-Wish Kid
Ringo Starr briefly shared the stage last Thursday with 17-year-old drummer and brain cancer survivor Alexx Kipp, whose long-held wish to meet the Beatle was granted by the Make-A-Wish Foundation and the Hard Rock International restaurant chain. Ringo later awarded the drum set to the boy.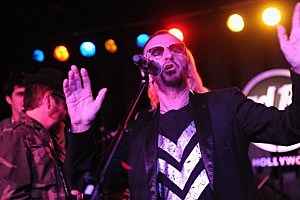 The event was the kickoff of a new partnership between the two organizations designed to help Make-A-Wish accommodate even more requests than the 14,000 it grants in the U.S. each year, about 900 of those involving celebrities. "You like those drums?" Starr asked Kipp as they stood behind a gleaming black-and-white set of Ludwigs, the brand long associated with him. "Hell, yeah!" beamed Kipp, who also has Tourette's syndrome and punctuated the dialogue with his musical hero with joyful birdlike chirps and whistles. "They're yours," Starr told him.