Rich Mullins And The True Origins Of The 'Cups' (Miss Me When I'm Gone) Song
Subscribe to 96.1 The Eagle on
You might've seen Anna Kendrick's  'Cups (When I'm Gone)' performance in 2012's Pitch Perfect or heard her single become wildly popular on the radio last year. However, maybe you didn't know that she copied other artists who have been doing the cup game to the same song for at least three years before that with Lulu and the Lampshades, but how far back does this really go?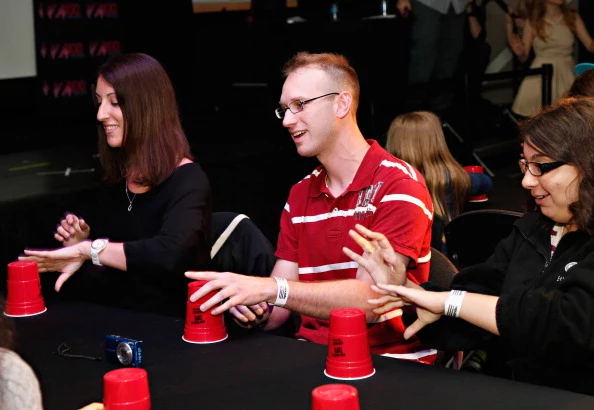 Well, the song she's singing was actually written back in 1928 as a bluegrass song by the 'Carter Family', and the rhythmic cup percussion routine itself is a children's game that likely goes back at least as far as that… But, there was one guy who lived a few decades ago who paired the game with music first, or at least had the platform and technology to show it off nationally… But first, the Carter Family's tune.
Subscribe to 96.1 The Eagle on
The true revolutionary though, was a Christian songwriter by the name of Rich Mullins who took the cup routine and paired it in concert with his 1987 'Screen Door' song frequently. The earliest video we have of him in action doing this is from his 1997 Lufkin Texas show which happened to be his final appearance before being tragically killed in a car accident (He's the guy all the way to the right in the video below.)
Subscribe to 96.1 The Eagle on
I was so inspired watching this that when I became a music teacher at Rome Catholic School I ended up stealing the idea from Rich and taught it to my 7th grade music class at the time (who're now all graduating college and starting families!) This post would be complete if I could just find that concert DVD!
Anyway, one of the musicians who played the above show was in the car with Rich when he lost his life is still making music and just happens to be a FB friend of mine. So, Mitch if you're reading this, maybe drop a comment below and give us the inside story if you know it on how and when Rich got the inspiration for this song which has since inspired millions… In the meantime, for those of you who wanna learn how to do it, here's a really easy (and cute) tutorial on the cups routine…
Subscribe to 96.1 The Eagle on