Paul McCartney Rocks Yankee Stadium
It may have been nearly 50 years ago that Beatlemania arrived in the United States,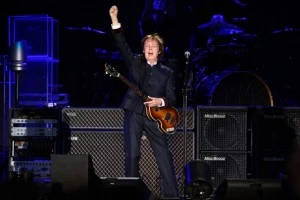 but the love for the fab four is still going strong. Paul McCartney played two packed out shows at Yankee Stadium over the weekend. Sir Paul's Saturday night performance featured a nearly 40-song set including a number of Beatles hits.
McCartney's nearly two-hour and 45-minute extravaganza spanned his output from the past 50 years. Chronological hodgepodge was clearly his goal from the outset, opening with late Beatles psychedelic tripper "Magical Mystery Tour," followed by Wings shout-anthem "Jet," and then early Beatles Dorian-scaled "All My Loving." EW.com
McCartney was called back by the crowd for 2 encores and he did not disappoint. Billy Joel joined McCartney on one encore to perform"I Saw Her Standing There". The second encore featured "Helter Skelter". In addition to music, McCartney also let it be known that he knew exactly where the concert was being performed:
"Who is this Derek Jeter guy?" he kidded at one point. "Somebody said he's got more hits than me." EW.com
McCartney's next stop is Detroit on July 24th.