Orlando Magic Cheerleader Jamie Woode Suffers Injury At Knicks-Magic Game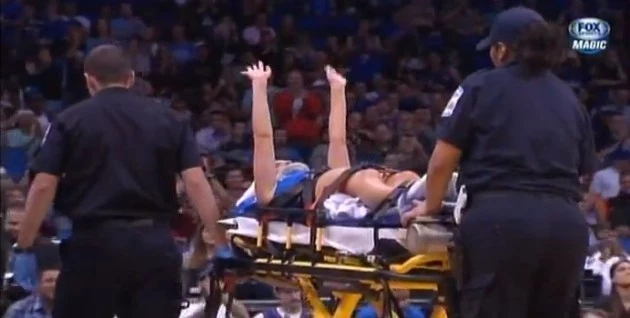 I will be the first to admit I don't usually watch basketball all that much. Last night during dinner though I did have the Knicks-Magic game on. After the first quarter cheerleader Jamie Woode was center of all attention on the court after she fell and landed on her head. It was a nasty fall and got our household worried.
Woode was rushed to the Orlando Regional Medical Center and treated for potential head and neck injuries.Woode fell to the floor while on the shoulders of another stunt team member as part of a pyramid-style routine. Woode's stumbled backwards in the air and struck her head at midcourt.
In a statement, the Magic said that Jamie Woode, a former University of Central Florida cheerleader, was transferred to Orlando Regional Hospital but was moving her extremities. Woode waved to fans as she was wheeled off the court on a stretcher. Players and fans watched in horror as Woode hit the floor after falling off a teamates shoulder. Paramedics were immediately on the scene and immobilized the cheerleader before carting her off."
Woode's was taken off the court on a stretcher. As she was rolled of the court she waved to fans to show that she was okay. Thank God! The fall looked horrible.
[via New York Daily News]