New Music From The Doors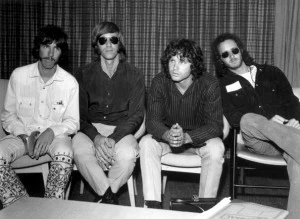 The year of the Doors officially kicks off at noon today when the iconic rock band will officially debut the first new, completely unreleased song in 40 years. "She Smells So Nice" will premiere on the band's Facebook page today. The song was discovered by the producer Bruce Botnick while reviewing the L.A Woman session tapes.
The Doors' final album, L.A Woman, is beind celebrated with a special 40th anniversary two CD release from Rhino records and a behind the scenes DVD/Blu-ray from Eagle Rock Entertainment.
In addition to "She Smells So Nice", the second disc of the L.A Woman reissue includes 8 never before heard versions of songs from the album including alternate takes of "L.A Woman", "Love Her Madly", and "Riders of the Storm".