John Waite Releases The Remastered Single "If You Ever Get Lonely" On iTunes
John Waite
On June 11th John Waite released his new album called "Live: All Access". Want to take a listen? We have his latest single "If You Ever Get Lonely (Remastered)".
This album was released on iTunes June 11th. It is a collection of live recordings of songs from the 'Rough and Tumble' album, and from John's solo albums 'Ignition' and 'No Brakes' and from The Babys era.
"It was a great time" states Waite. "Keri had been working his way into the songs. The energy was worth recording. I took a shot at capturing the energy. We were having a blast and it shows in the performance. I think it was a golden time. It cost a small fortune to record and some of the shows were just so good it was worth going after. The band has come a long way and I would like to continue to put something out every 8 months. It's a great record..... Raw, no overdubs or bullshit. It's the truth!!!"
You can listen to his single by Clicking Here. Waite released a music video for his single back in 2011:
As you remember, Waite was the lead vocalist for The Babys and Bad English. As a solo artist, he scored several international hits, including 1984's "Missing You", a #1 hit on the US Billboard Hot 100 and a top ten hit on the UK Singles Chart.
Live: All Access is available now on iTunes.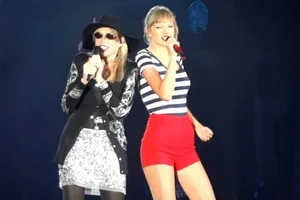 Taylor Swift's Red Tour rolled into Massachusetts over the weekend, and she had something special for the audience up her black-and-white striped sleeve: a surprise guest appearance from New England pop legend Carly Simon. Swift introduced Simon to the crowd by saying, "Before I bring out my special guest, I have this question that I've always, always had.