Jets Beat Sabres 2-1 In Overtime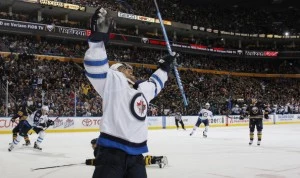 Our Buffalo Sabres returned to Buffalo after losing their sixth consecutive road game against the Carolina Hurricanes on Friday hoping home ice would treat the team well. However, that wasn't the case tonight.
Johnny Oduya shot past Buffalo goaltender Jhonas Enroth 57 seconds into overtime to give the Winnipeg Jets a 2-1 win against the Buffalo Sabres. The win was the first in three games on the road this week for the Jets. Read the full recap here.